I am super excited today to bring you an interview with
Memento Nora
's author, Angie Smibert! Angie was born in Blacksburg, Virginia. She grew up thinking I wanted to be a veterinarian, but organic chemistry changed her mind. Though she loved science, writing was something she always loved. After a few degrees and few cool jobs, including a 10-year stint at NASA's Kennedy Space Center, she pursued her dream to be a full time writer. Though Angie has written science fiction stories, which can be found on
her blog
, her debut YA novel
Memento Nora
was released at the beginning of this month.
If you would like to read my review of Memento Nora, click here.
Angie and I spoke about her writing process and her book. I hope you enjoy the interview as much as I do!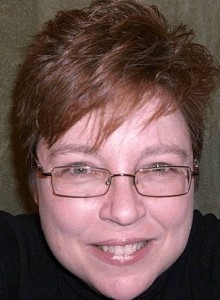 Welcome and thank you so much for stopping by! In your novel people can forget a memory by popping a pill. Sometimes that doesn't seem like a bad idea. :) What is one memory that you would like to forget and why?

I agree. Forgetting isn't always a bad idea. I might like to forget getting stood up one particular New Year's Eve—on which I was pretty sure my longtime boyfriend was going to propose. I was worried sick all evening that something had happened to him (like a car accident). I was phoning hospitals, his parents, etc. Nada. When I found out later what had actually (allegedly?) happened, oh, I was pissed. Let's just say that even though he did later propose, we did not get married.

Ouch. I would have liked to forget that too if I were in your shoes. I can't believe he proposed later! *Shakes head* What was he thinking?! Your novel is written from three different perspectives in the first person format. Did you have a hard time flipping back and forth between the characters? Did you find yourself enjoying writing from one character more than the others?

I wrote Nora's point of view first, and then added in Winter's and Micah's. Occasionally, I found myself not being Micah-enough in his chapters. Reading everything aloud really helps with voice, though. I enjoyed writing all of the characters, but Winter is my favorite. She has a decidedly different take on everything.

That's really interesting! I didn't have any problems with Micah's voice, but I do agree that Winter is one cool chic. I wish I was talented and creative like her. Speaking of creativity, I love how your characters work together in creating a graphic novel. It's so cool! Why did you decided to have them create a graphic novel instead of a written manifesto for their revolution?

Underground comics have a long revolutionary history. You can lull the powers that be into thinking a comic strip isn't that serious and/or dangerous yet more people may read it than a written manifesto. From a story standpoint, though, I wanted each character to bring a visible talent to this creative effort. Nora writes, Micah draws, and Winter makes things work.

As a librarian, I have a hard time convincing people to read graphic novels. It seems as if I have to work 10 times as hard to book talk the graphic novel than an ordinary book. Do you have any marketing advice for me?

I don't know about marketing advice, but I tend to like the more literary graphic novels such as those by Art Spiegelman and Marjane Sartrapi. If people think graphic novels are just for superheroes, tell them to read

Maus

or

Persepolis

.

Maus

is about the author's father's experiences in Nazi concentration camps. The graphic novel won the Pulitzer.

It's funny that you mention those titles because they are the same exact ones I use to argue with the notion that all comics are only about superheroes or the have less literary merit because it contains illustrations. Most dystopian novels create a world that seems to be perfect and then slowly unveils how it is not, but your book is the complete opposite. How do you define a dystopian novel and would you categorize Memento Nora as such?

A lot of dystopian novels do present a world that seems like utopia, a perfect world, but it turns out to be a false one. Lois Lowry did that brilliantly in

The Giver

. However, a false utopia is not the only kind of dystopia. I think of a dystopia as dysfunctional (future) world that might have resulted from any number of reasons, from a war to a natural disaster to a plague. Or even just a political movement. The world of

Memento Nora

is certainly dysfunctional, but I think it's more on the slippery slope down into that false utopia. To me, the descent into the abyss is a more interesting (and trickier) place to explore.

It's definitely interesting and I'd love to know more about it. When you are writing, what comes first: world building or your characters?

It depends on the story. In Memento Nora, the idea came first. I saw a world where a memory erasure pill might be doled out like lattes and frozen yogurts. Then I built the world where that might be possible. Next, I created the least likely hero (Nora) for this world.

*Laughs* They sure do hand those pills out pretty readily. What would you like your readers to take away after they finish reading your book?

First of all, I want them to enjoy the book. Then maybe I hope it makes them think and questions about any number of things about our world.

After reading it, I'm sure they will do both. I know that you mostly write science fiction. Do you have a favorite science fiction writer or novel?

My favorite YA science fiction novel (so far) is

FEED

by MT Anderson. That's one of those books that I really wished I had written. I want to be that brilliant.

Yes, I love Feed! Feed is absolutely brilliant, disturbing, and funny all rolled into one.

I

have to ask, how did you like working for NASA? What did you do?

Loved it! I worked at the Kennedy Space Center for over 10 years. I wrote training videos and developed online instruction, among other things. I know more about nondestructive evaluation of ground support equipment that I really need to know. I loved learning about new things and then breaking the concepts down for the appropriate audience (engineers, public, etc.). Plus who wouldn't like to step right outside to see a Shuttle launch? I only quit to pursue my real love, writing my own stuff.

Wow, that sounds amazing! Is there a sequel to Memento Nora? What is next for you?

I'm working on the revisions for the sequel right now. It's tentatively called

The Forgetting Curve

and is scheduled to come out in Spring 2012 from Marshall Cavendish.

I'm really looking forward to reading it, Angie. Readers, if you'd like to know more about Angie, please visit her website, blog, Facebook, and on Twitter. GIVEAWAY:

Thanks to the sponsors of the Cornucopia of Dystopia Blog Tour, I have

1 copy of the Memento Nora ARC

to giveaway plus some mystery swag. To learn more about the details of this giveaway, click here. The giveaway ends April 26th!