Happy Holidays, readers! I hope you are enjoying the holidays with friends and family. In these last few days of December, I'm trying to wrap up some of my remaining reading challenges. I'm almost half way done!
The Thirteenth Tale
wraps up my Alex Award reading challenge this year.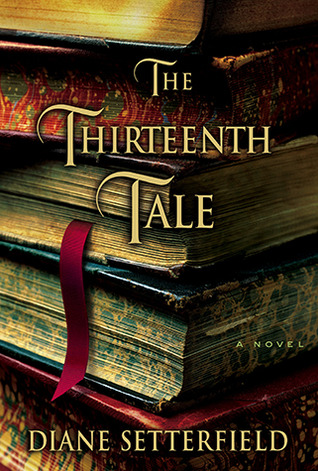 Description:
Margaret Lea works in her father's antiquarian bookshop where her fascination for the biographies of the long-dead has led her to write them herself. She gets a letter from one of the most famous authors of the day, the mysterious Vida Winter, whose popularity as a writer has been in no way diminished by her reclusiveness. Until now, Vida has toyed with journalists who interview her, creating outlandish life histories for herself - all of them invention. Now she is old and ailing, and at last she wants to tell the truth about her extraordinary life. Her letter to Margaret is a summons.Somewhat anxiously, the equally reclusive Margaret travels to Yorkshire to meet her subject - and Vida starts to tell her tale. It is one of Gothic strangeness featuring the March family; her mother, the beautiful and willful Isabelle, who had a powerful hold on her father and brother, and the feral twins Adeline and Emmeline.Margaret, herself a twin, is doubly intrigued. But as a biographer she deals in fact not fiction, and she doesn't entirely trust Vida's account. She goes to check up on the family, visit their old home and piece together the story in her own way. What she discovers on her journey to the truth is for Margaret a chilling experience that will transform her life.
Review:
The Thirteenth Tale
pays homage to the great Gothic writers, particularly Charlotte Bronte and Daphne Du Maurier, while weaving a wholly original story of its own. The story at first seems very familiar as a plain girl gets wrapped up in a dark, haunted ruin of a house, which guards family secrets that are not hers and that she must discover at her peril. Along this bleak journey, she also learns secrets about her own family.
Margaret Lea is a London bookseller's daughter and a bibliophile. An introvert, she has lived vicariously through the written world. Her world revolves around what knows through her books. Books are her solace, friends, and adventures she can safely go on without any dangers. She enjoys books where the truth is written out in black and white terms and where the unjust are punished in the end. She also has an interest in siblings and has written an obscure biography that suggests deep understanding of siblings.
It is Margaret's fascination with siblings that attracts the attention of the famous and now aging author Vida Winter, who finally wishes to tell her own, long-hidden, life story. Facing imminent death and feeling an unexplainable connection to Margaret, Miss Winter begins to spin a haunting, suspenseful tale of an old English estate, a devastating fire, twin girls, a governess, and a ghost. As Margaret carefully records Vida's tale, she ponders her own family secrets.
The Thirteenth Tale
immediately grabbed my attention right away. I felt a kinship with Margaret's love of books and I was swept away with the story that Ms. Winter spun. All throughout the story with a story, I wondered which bits were true. I had no problems distinguishing between the two narrators as their voices were so different, but the transition from one to the other felt smooth. I loved the connections with some of my favorite books, but I was delightfully surprised that the connections were not a complete retelling of the story but showed how books can touch our lives in so many different ways. The book's pace was steady and there were plenty of twists and cliffhangers that kept me turning the pages. I was sad when the story concluded, but I think it could be enjoyed even more the second time you read it.
The Thirteenth Tale
is truly a book lover's book that celebrates reading and storytelling.
Rating:
5 stars
Words of Caution:
There are hints of sex and incest in the book, but nothing graphic or explicit. Recommended for teens and adults only.
If you like this book try:
The Forgotten Garden
by Kate Morton,
The Children's Book
by A.S. Byatt,
Shadow of the Wind
by Carlos Ruiz Zafon,
Rebecca
by Daphne Du Maurier, and
Jane Eyre
by Charlotte Bronte