As a blogger and a reader, I'm very weary of books that get a lot of hype. While my excitement for the latest hot reads grow, so do my expectations and majority of the time they don't match up. This was the primary reason why I waited until I read
These Broken Stars
, a book that many enjoyed and applauded. I wanted to distance myself from the hype and waited until I could judge the book my its own merit. Thankfully,
These Broken Stars
was just as good as the reviews I read of the book.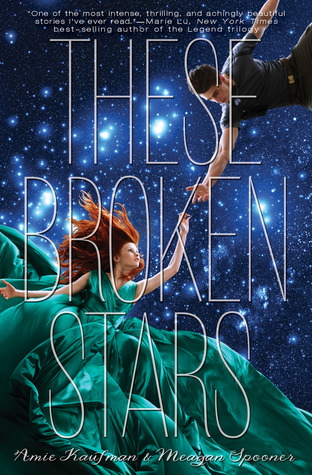 Description:
It's a night like any other on board the Icarus. Then, catastrophe strikes: the massive luxury spaceliner is yanked out of hyperspace and plummets into the nearest planet. Lilac LaRoux and Tarver Merendsen survive. And they seem to be alone.
Lilac is the daughter of the richest man in the universe. Tarver comes from nothing, a young war hero who learned long ago that girls like Lilac are more trouble than they're worth. But with only each other to rely on, Lilac and Tarver must work together, making a tortuous journey across the eerie, deserted terrain to seek help.
Then, against all odds, Lilac and Tarver find a strange blessing in the tragedy that has thrown them into each other's arms. Without the hope of a future together in their own world, they begin to wonder—would they be better off staying here forever?
Everything changes when they uncover the truth behind the chilling whispers that haunt their every step. Lilac and Tarver may find a way off this planet. But they won't be the same people who landed on it.
Review:
These Broken Stars
begins like a science-fiction romance we have heard before and then charts its own course that goes beyond the genre tropes much to the reader's satisfaction. As the passengers and crew of the Icarus cruise through hyperspace, spoiled and aloof rich-girl Lilac LaRoux drops a glove before war-hero Major Tarver Merendsen, only to rebuff him later. Yet during a horrifying accident, Lilac and Tarver escape the death-spiraling Icarus and find themselves stranded on a strange, terraformed, yet abandoned planet.
I really enjoyed watching Lilac's and Tarver's prickly relationship grow. Despite their mutual attraction to one another, they both realize they have no future together, even if they are rescued due to their social class hierarchy. Lilac is the prized daughter of the universe's richest man, while Tarver is a lowly soldier. It would have been every easy for the authors to create caricatures of these two characters, but thankfully both Lilac and Tarver are fully three dimensional characters with depth, personality, complexity, and strength as we watch them try to survive on their own on this estranged planet. Together, they struggle to save their lives and maintain their sanity—despite disturbing whispers, strange appearances, and disappearances of things lost and treasured—and gradually, the dire circumstances break down the barriers between them.
These Broken Stars
may take place in space but at its heart it is a love story. The book is written in alternate chapters by Lilac and Tarver with intervals from a unknown interrogator. The intervals with the interrogator heighten the suspense and sped the pace of the book for me as I wanted to know how Lilac and Tarver survived and which version of their tale is true. This was a near perfect read for me. I only wished we got to learn more of the planet that Lilac and Tarver landed on and what happened to it a bit more than it was revealed in the story. While this book is the first of a trilogy, it can be read as a stand alone. I, for one, can't wait to see what these authors have in store for us with the second book,
This Shattered World
, which will be released this November.
Rating:
4.5 stars
Words of Caution:
There is a scene of underage drinking and minor language. Recommended for Grade 8 and up.
If you like this book try:
Under the Never Sky series by Veronica Rossi, Across the Universe series by Beth Revis