I have been wanting to pick up a book by Sarah J. Maas for quite some time. Though I have heard great things about Maas's Throne of Glass series which is still growing, I thought I would try her new series called A Court of Thorns and Roses which is a fantasy romance. Please note that this review is based on the advanced reader's copy of the book provided by the publisher via Netgalley.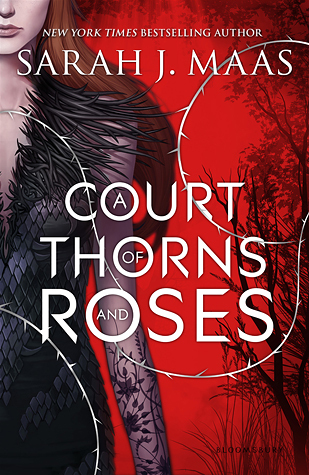 Description:
When nineteen-year-old huntress Feyre kills a wolf in the woods, a beast-like creature arrives to demand retribution for it. Dragged to a treacherous magical land she only knows about from legends, Feyre discovers that her captor is not an animal, but Tamlin—one of the lethal, immortal faeries who once ruled their world.
As she dwells on his estate, her feelings for Tamlin transform from icy hostility into a fiery passion that burns through every lie and warning she's been told about the beautiful, dangerous world of the Fae. But an ancient, wicked shadow grows over the faerie lands, and Feyre must find a way to stop it or doom Tamlin—and his world—forever.
Review:
Drawing inspiration from a variety of sources including the Beauty and the Beast as well as the Ballad of Tam Lin, Maas creates a new world
where humans and the faeries who once enslaved them live separated by a wall erected under Treaty. Feyre, our heroine, is solely responsible in keeping her once-affluent, now-impoverished family fed by hunting. On a desperate trip, she

unknowingly

kills a large wolf that's actually a fae. For retribution, Tamlin a cursed fae lord brings her to the faerie lands she grew up hating and fearing.
Feyre is a character that I had to warm up to at first, but I admired her tenacity and strength. It is definitely clear that she is taken advantage of by her family, being the sole provider while her sisters prim themselves. What Feyre lacks in literacy, she makes up in her survival and artistic skills. She persistently tries to find a way to escape from Tamlin's court in fear that she would be tormented by the dangerous faeries. Over time her prejudices against the fae change as she learns truths and lies about faeries, who have been afflicted by a mysterious, magical deformity in which a masque is glued to their face.
Tamlin is a fae shape-shifter and one of the seven High Lords of faerie. When not in beast form, Tamlin is beautiful, powerful, and one of the seven High Lords of faerie. I also thought he was quite attractive in beast form too actually. I thought he was nice to Feyre and was almost always on his best behavior (he is a beast afterall). While there is a romantic relationship between Tamlin and Feyre which takes time to develop, I didn't really feel any chemistry between these characters though they did have nice moments when they were alone.
The world building in its exploration of the faerie lands and court intrigue is given much attention to in the book, however, it does slow the book down quite considerably. Feyre knows the fae are keeping dangerous secrets from her, but by the time she finds out the truth it might be too late. My favorite part of the book are the trials and cruel court games that Feyre must win in order to save Tamlin and the other faeries; however I found the final riddle that Feyre must solve was too-easy. The

appearance

of the

enigmatic

Rhysand has me curious though I also think he is not a great romantic fit with Feyre either given their deal. Overall A Court of Thorns and Roses ends with a satisfying conclusion to the story line, but it leaves the door open for future books. I do plan on continuing this series to see where it goes.
Rating:
4 stars
Words of Caution:
There are a few sex scenes are more titillating than graphic as well as allusions to sex. There is also crude language, and some strong violence. Recommended for Grades 10 and up.
If you like this book try:
Cruel Beauty
by Rosamund Hodge,
The Wrath and the Dawn
by Renee Ahdieh,
Of Beast and Beauty
by Stacey Jay