The Serpent King
is the best book that I've read so far in the month of May. It is possibly my favorite book by a debut author so far this year. The book has rich characters, thought provoking subjects, and a setting of rural Tennessee that is not seen frequently in YA.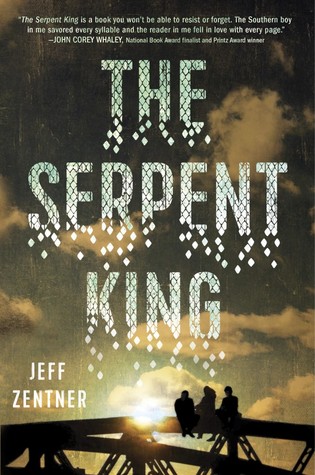 Description:
Dill has had to wrestle with vipers his whole life—at home, as the only son of a Pentecostal minister who urges him to handle poisonous rattlesnakes, and at school, where he faces down bullies who target him for his father's extreme faith and very public fall from grace.
He and his fellow outcast friends must try to make it through their senior year of high school without letting the small-town culture destroy their creative spirits and sense of self. Graduation will lead to new beginnings for Lydia, whose edgy fashion blog is her ticket out of their rural Tennessee town. And Travis is content where he is thanks to his obsession with an epic book series and the fangirl turning his reality into real-life fantasy.
Their diverging paths could mean the end of their friendship. But not before Dill confronts his dark legacy to attempt to find a way into the light of a future worth living.
Review:
The Serpent King
is a lyrical coming-of-age novel about three teens who are trying to escape poverty, abuse, and prejudice that follow them like shadows in their rural Tennessee town. The book is told in three, distinct, and unforgettable point of views. All of the main characters are outcasts in their own rights, but their alienation made them best friends and an incredible support group.
Dill is burdened with carrying the name of his grandfather and father who are both known for their notoriety. His grandfather in his grief became mad and his father, a Pentecoastal minister, was publicly shamed and arrested for child pornography. Dill feels that he will inevitably follow the same bleak path as his elders. He is bullied in school and his overbearing mother feels that he is partly responsible for his father's arrest since Dill had a computer in the house and furthermore, he should work and focus on his faith in order to help her pay off his father's legal bills rather than pursue his dream of being a musician and going to college. Dill's only life line to sanity is through his best friends Lydia and Travis.
Lydia is considered the lucky one out of her friends. Her parents support and love her unconditionally. She is also financially well off compared to Dill and Travis. She has big dreams of working in the fashion world and is the creator of the super famous fashion blog called Dollywould, a salute to her idol Dolly Parton. Lydia is a bit of a cultural snob and can't wait to leave her provincial town to start her new life in New York City.
Travis has a mixture of both of Dill's and Lydia's worlds. Travis has a very intimidating physical presence, but he is really just a giant teddy bear. His geeky devotion to Game of Thrones-esque fantasy series is contagious and his only escape from his abusive father.
I loved each of these characters for different reasons. I really empathized with Dill's existential crisis and his ultimate fear that he would never leave his town. I also appreciated the open discussion of whether or not college is even an option because of financial strains and Dill's mother not valuing education. I think we all assume that college is the next step after a teen graduates from college, but that is not always the case. I will say that I was initially worried how the book would handle religion considering how prevalent it is in Dill's life, but the author showed both religious fervor as well as Dill questioning his faith which felt real and not heavy handed. Though Lydia annoyed me at times for being judgemental, I admired her ambition and her desire for her friends to reach their own potentials. I also adored Travis, who is full of light, love, and laughter.
The Serpent King
is very much a character driven novel. The pace is a bit slow, but I didn't mind as I got to spend time with each of the characters. While the themes are dark and hard to read sometimes, there is hope and lighter moments that will lift you up. There is a bit of romance in the book but it is slow burning and takes a bit of a back seat to the characters' self discovery. Definitely pick this book up if you are in the mood for an absorbing, beautifully written realistic fiction read.
Rating:
4.5 stars
Words of Caution:
There is strong language including homophobic slurs, a scene of underage drinking, scenes of physical, verbal, emotional, and alcohol abuse. Recommended for Grades 9 and up.
If you like this book try:
Eleanor and Park
by Rainbow Rowell,
I'll Give You the Sun
by Jandy Nelson,
Looking for Alaska
by John Green