Rick Riordan's latest series, The Trials of Apollo, delivers the same entertainment like the Percy Jackson and the Olympian series.
The Hidden Oracle
takes place a few months after the events of The Blood of Olympus, the final book in the Hero of Olympus series. While it isn't necessary to read the Percy Jackson and the Heroes of Olympus series to enjoy the
Hidden Oracle
, you will miss out on the world building and the events mentioned in this book. I would suggest reading the Percy Jackson and the Olympians first followed by the Heroes of Olympus before reading the
Hidden Oracle
.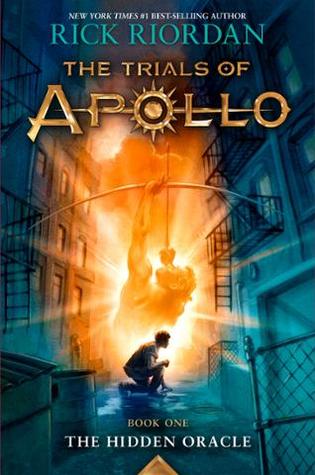 Description:
How do you punish an immortal? By making him human.
After angering his father Zeus, the god Apollo is cast down from Olympus. Weak and disorientated, he lands in New York City as a regular teenage boy. Now, without his godly powers, the four-thousand-year-old deity must learn to survive in the modern world until he can somehow find a way to regain Zeus's favor.
But Apollo has many enemies - gods, monsters and mortals who would love to see the former Olympian permanently destroyed. Apollo needs help, and he can think of only one place to go . . . an enclave of modern demigods known as Camp Half-Blood.
Review:
Riordan takes a break from his well-known formula of a young man/woman discovering he/she is a demigod in his latest series. This time, he turns the tables and a demigod is stripped of his immortality and turned into a human. Apollo has done something to anger his father, Zeus, and he's been cursed to walk the earth as gawky, mortal 16-year-old Lester Papadopolous. To add insult, he is required to obey the command of whichever demigod he encounters first, and in his case, that's grouchy, volatile Meg, a 12-year-old with a powerful ability to wield garbage as a weapon. Together, the pair makes their way to Camp Halfblood, only to discover that demigods are going missing, and it has something to do with whispering trees, the blocked Oracle of Delphi, and a dangerous new threat.
Apollo's first-person narrative, awkwardly juggling his godly egotism and teenage insecurity, is hilarious. Other reviewers have commented that Apollo got on their nerves, but I loved his voice. Greek gods and goddess are known for their childish behaviors and Riordan displays this brilliantly with Apollo's voice, especially his haiku's the preface each chapter. His mortality not only provides him to comment and lament how lame mortals are, but it also provides him multiple opportunities for him to grow as a character such as appreciating his many children and being (gasp!) humble.
In true Riordan fashion, there is the interweaving of Greek myths throughout the story and I really like the absence of an oracle, which undoubtedly influences and shapes the overall arching plot of the series. I enjoyed having the same amount of information and clues as his characters do. The pace moves quickly and the story is filled with lots of action, adventure, and humor makes the Hidden Oracle a very enjoyable read. For fans of Riordan's Percy Jackson and the Olympian and Heroes of the Olympus series, you will definitely see a lot of familiar faces. I'm really looking forward to the next book in this series.
Rating:
4 stars
Words of Caution:
Apollo mentions having both male and female lovers, which is not unusual in Greek mythology or in Ancient Greece. There is also some strong violence in the book. Recommended for Grades 6 and up.
If you like this book try:
Apollo
by George O'Connor, Dark
Prophecy
(Trials of Apollo #2) Rick Riordan coming in May 2017,
Pegasus and the Flame of Olympus
by Kat O'Hearn,
Night Tourist
by Katherine Marsh,
Gods of Manhattan
by Scott Mebus