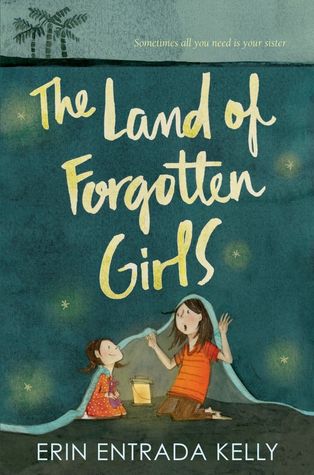 Description:
Soledad has always been able to escape into the stories she creates. Just like her mother always could. And Soledad has needed that escape more than ever in the five years since her mother and sister died and her father moved Sol and her youngest sister from the Philippines to Louisiana. Then he left, and all Sol and Ming have now is their evil stepmother, Vea. Sol has protected Ming all this time, but then Ming begins to believe that Auntie Jove—their mythical, world-traveling aunt—is really going to come rescue them. Have Sol's stories done more harm than good? Can she protect Ming from this impossible hope?
Review:
Don't let the "feel good" cover fool you,
The Land of Forgotten Girls
deals with tough issues such as abandonment, verbal and physical abuse; it mostly succeeds but doesn't quite solidify as a powerful read as it hoped to be. Sol and her baby sister Ming are abandoned by their father and raised by their unhappy stepmother Vea after their family migrated from the Philippines to a small Louisiana town. Sol creates fantasies and magical scenarios to help her and her sister escape their harsh reality. Sol often pictures herself and Ming as princesses fighting an evil dragon (i.e. their stepmother who verbally and physically abuse them) as their squalid, subsidized apartment building transform into a fairy-tale tower. As Sol begins to make friends around her, she begins to rely less on her stories while Ming desperately holds on.
For the majority of the book I felt disconnected to Sol and Ming. While I felt sorry for the sisters and their predicament, I wasn't moved by them. I was also not a big fan of Sol who felt too pushy for me. There are several moments where she and her best friend Manny bully a white girl who they call "Casper" because she looks pale. These moments made me uneasy, especially when the bullied girl is injured by a pine cone thrown by Sol. Their resolution into friendship was not believable at all and this is where the story really dragged for me. Sol, however, does grow up a bit as she tries to stay positive for the sake of her sister and stands up to Vea. We also learn more about Sol's inner struggle with guilt, but the story lacks the momentum to turn its quiet plot into a serious one that tackles the issues of class and immigration. full-blown tale that effectively handles the class and race issues that it touches upon. Overall
The Land of Forgotten Girls
is a promising story that could have been so much better.
Rating:
3 stars
Words of Caution:
There are a few scenes where Sol and Manny bully a girl who they call "Casper" because of her pale skin and there are also a couple of scenes where Sol and Manny steal ice cream from a store. Recommended for Grades 4 and up.
If you like this book try:
Summer of the Gypsy Moths
by Sara Pennypacker