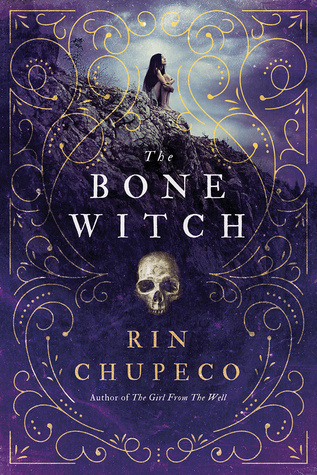 Description:
Tea is different from the other witches in her family. Her gift for necromancy makes her a bone witch, who are feared and ostracized in the kingdom. For theirs is a powerful, elemental magic that can reach beyond the boundaries of the living—and of the human.
Great power comes at a price, forcing Tea to leave her homeland to train under the guidance of an older, wiser bone witch. There, Tea puts all of her energy into becoming an asha, learning to control her elemental magic and those beasts who will submit by no other force. And Tea must be strong—stronger than she even believes possible. Because war is brewing in the eight kingdoms, war that will threaten the sovereignty of her homeland…and threaten the very survival of those she loves.
Review:
The best way I could describe
The Bone Witch
would be a mash-up between
fantasy and Memoirs of a Geisha. While an original concept, I had a really hard time getting into this book. It read as a very long prologue as this is clearly the first book in a series.
Tea is an asha, known for performing, fighting, and magic. Ashas are revered for their talents yet treated as outcasts and feared by their kingdoms. Tea stumbles upon being an asha when she accidentally raises her dead brother Fox. The narrative is split into two timelines. The past timeline details Tea's early training as an asha and the future timeline shows a hardened, cynical Tea on a lonely beach raising monsters and planning war, relating her past to a nameless bard. I didn't mind the back and forth timelines as they were easily to distinguish the two and I also found the world building confusing but fascinating as the author combines several Asian influences into her book. I also liked the concept surrounding the heartglass which dictates a person's emotions and intentions.
The book is very slow pace and I mostly skimmed much of it as it could not hold my attention. We are told in the beginning about a dark force descending upon Tea's people, however, we don't hear of it until the last 100 pages in the story where all the action seemed to happen all at once. There is surprisingly very little magic performed in the book which I found disappointing. I also found some of the secondary characters such as Fox and Tea's mentor to be much more interesting than Tea herself. Tea was stubborn and headstrong and there were a few times she came across as very young. I really liked Chupeco's debut novel, The Girl from the Well, and I will keep an eye out for what she writes in the future, however, I struck out with this new series and don't plan to continue it.
Rating:
2 stars
Words of Caution:
There are some disturbing images. Recommended for Grades 7 and up.
If you like this book try:
Labyrinth Lost
by Zoraida Cordova