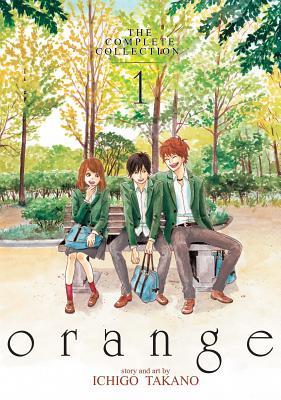 Description:
On the day that Naho begins 11th grade, she receives a letter from herself ten years in the future. At first, she writes it off as a prank, but as the letter's predictions come true one by one, Naho realizes that the letter might be the real deal. Her future self tells Naho that a new transfer student, a boy named Kakeru, will soon join her class. The letter begs Naho to watch over him, saying that only Naho can save Kakeru from a terrible future. Who is this mystery boy, and can Naho save him from his destiny?
Review:
I have heard great things about the manga series Orange for quite some time. I saw friends read it and enjoyed it. After it appeared on the Goodreads Choice for graphic novels and on the ALA Great Graphic Novels for Teens I decided to pick it up. The series is complete in two omnibus volumes. Once I started the manga, I had a hard time putting it down.
The premise of the manga series is not completely unique. Our main character Naho receives a letter from her future self warning her to look after a boy named Kakeru who will soon join her class. Ten years from now Kakeru will commit suicide and Naho and her group of friends can avoid this tragedy if they work together and change their choices. Though I had to suspend my disbelief and overlook the confusing science explanation of how the letter works, the characters and their friendship is what drew me into this story.
Orange features a great group of friends that I have seen in manga. They show their unconditional love and support to each other without any strings attached. You won't find petty fights, angst or betrayal among these group of friends. They open their arms to Kakeru who is quiet and withdrawn on his first day and envelop him with their warmth without any questions asked. The group of friends are made up of varied personalities: Naho is shy, very sweet, and maternal. Takako is the outspoken protector of the group who first appears intimidating but she defends her friends and comes to their rescue in confrontations. Azusa is bubbly, optimistic and full of enthusiasm. Saku is the "serious" one but a manga nerd and totally has something for Azusa but denies it. Hiroto is the leader of the group, star soccer player, and my favorite member of all who is completely selfless throughout the entire series. Each member of the group affect Kakeru differently and they are very different from his old group of friends at his old school.
Kakeru's past is slowly unveiled through the future letters and we really hear his voice in the second volume. I appreciated that the author did not shy away from talking about tough mental health issues such as depression, suicide, and guilt in the manga. I would have liked to see more of a discussion particularly of seeking help in the manga. While there is a small undercurrent of romance in the series, the main focus was helping Kakeru. Orange ends on a hopeful note, but I was still left wanting more. I would have liked an epilogue to see what happened to all of the characters. I would highly recommend reading this manga series for its message of being kind and supportive to everyone because you don't know what worries and hardships they carry.
Rating:
4 stars
Words of Caution:
There is some language in the manga series and mention of suicide.
If you like this book try:
Sand Chronicles
by Hinako Ashihara,
We Were There
by Yuuki Obata,
Silent Voice
series by Yoshitoki Ooima