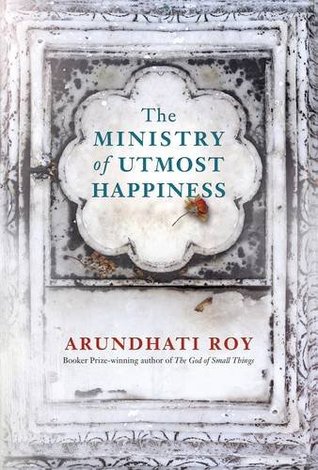 Description:
The Ministry of Utmost Happiness takes us on an intimate journey of many years across the Indian subcontinent, from the cramped neighborhoods of Old Delhi and the roads of the new city, to the mountains and valleys of Kashmir and beyond, where war is peace and peace is war.
The engine of Roy's story is a heejra (India's third gender) named Anjum, and the story begins with her unrolling a threadbare Persian carpet in a city graveyard she calls home. Anjum's charisma draws a vibrant assemblage of outcasts to join her--other hijras, Kashmiri freedom fighters, activists, orphans, low-caste Hindus and Muslims, and a host of animals. Anjum's home is a place where the formerly unwanted embrace each other's true selves.
We encounter the odd, unforgettable Tilo and the men who loved her, including Musa, sweetheart and ex-sweetheart, lover and ex-lover. Their fates are as entwined as their arms used to be and always will be. We meet Tilo's landlord, a former suitor, now an intelligence officer posted to Kabul, and then we meet the two Miss Jebeens. The first is a child born in Srinagar and buried in its overcrowded Martyrs' Graveyard. The second is found at midnight, abandoned on a concrete sidewalk in the heart of New Delhi.
Review:
I absolutely loved Roy's debut novel, A God of Small Things, and I have been anxiously awaiting the release of her next novel. Like many of her fans, I didn't realize that it would be twenty years until her next book. Roy has been and continues to be a social and political advocate in India which translates over to her new novel
The Ministry of Utmost Happiness
.
The Ministry of Utmost Happiness
is a dense yet beautifully written novel that gives a panoramic view of all the various conflicts and societal issues such as gender rights and war plaguing the Indian Subcontinent. While it does have a loose plot line, the characters are mainly used as anecdotes to explain the conflicts and their consequences. The pace is deliberating slow, allowing the reader time to absorb what he/she is reading. Readers anticipating a novel featuring a gripping family saga like Roy's debut novel might be disappointed.
The book follows two central protagonists. Anjum is born intersex and raised as a male per her parents decision in order to avoid shame and embarrassment. Embracing her identity as a woman, she moves from her childhood home in Delhi to the nearby House of Dreams, where gender non-conforming individuals like herself live together, and then to a cemetery when that home too fails her. The home that tries to create herself becomes an enclave for the wounded, outcast, and odd. The other protagonist, the woman who calls herself S. Tilottama, fascinates three very different men for various reasons but she loves only one, the elusive Kashmiri activist Musa Yeswi. When an abandoned infant girl appears mysteriously amid urban litter and both Anjum and Tilo have reasons to try to claim her, all their lives converge. The unknown baby girl is much like the motherland India who is home to a vast number of people from different states, religions, and ethnicity. While the book turns a sympathetic eye to the victims of India's social and political turmoil, it also very critical particularly when it comes to Kashmir's long fight for self rule. The book shifts through various emotions, time periods, and even narrating style from first-person and omniscient narration with "found" documents to weave everything together to make a "novel".
Rating:
3.5 stars
Words of Caution:
There is strong language, some sexual content, and mature themes in the book.
If you like this book try:
The Goldfinch
by Donna Tartt,
Freedom
by Jonathan Franzen,
City on Fire
by Garth Risk