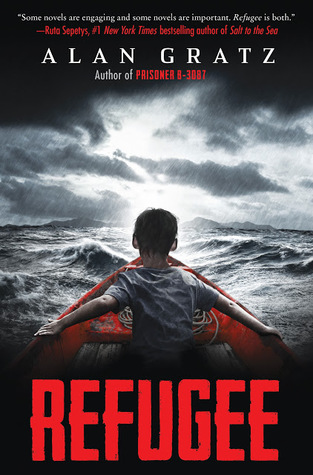 Description:
JOSEF is a Jewish boy living in 1930s Nazi Germany. With the threat of concentration camps looming, he and his family board a ship bound for the other side of the world . . .
ISABEL is a Cuban girl in 1994. With riots and unrest plaguing her country, she and her family set out on a raft, hoping to find safety in America . . .
MAHMOUD is a Syrian boy in 2015. With his homeland torn apart by violence and destruction, he and his family begin a long trek toward Europe . . .
All three kids go on harrowing journeys in search of refuge. All will face unimaginable dangers -- from drownings to bombings to betrayals. But there is always the hope of
tomorrow
. And although Josef, Isabel, and Mahmoud are separated by continents and decades, shocking connections will tie their stories together in the end.
Review:
With immigration being a hot topic and feverishly discussed and debated in the news, Alan Gratz's stirring middle grade novel,
Refugee
, is timely and important. It is focused on the different reasons why immigrants flee their native homelands. The book is told in three parallel stories of three different tween refugees from different eras,
Josef from Nazi Germany in 1938, Isabel from 1994 Cuba, and Mahmoud from 2015 Aleppo, Syria, that eventually intertwine for maximum impact.
Although these countries, time periods, and three brave protagonists are very different, Gratz shows us how they share many things in common. Josef, Isabel, and Mahmoud traverse a landscape ruled by a dictator and must balance freedom, family, and responsibility. Each initially leaves by boat, surviving at sea, struggles between visibility and invisibility in fear of safety, experience heart-wrenching loss, and ultimately gaining resilience in the process. In each alternating chapter we get a snapshot of being on their perilous journey with the people involved. What I found interesting is that the behavior of the children remained constant, however, the adults were unpredictable. There were many adults who exploited the vulnerabilities of the refugees, others who were constrained by their obligations not to help either due to their own safety being endangered or those dictated by their law or government, and a few who were driven by kindness and sincerity.
Though
Refugee
is written for the middle grade audience, Gratz does not sugar coat the disastrous living conditions of each setting. He manages to be poignant, respectful and historically accurate in the book without resorting to shock value or making one dimensional characters. The chapters are short and fast paced. You can either read one narrative all the way through to the end, but I would suggest to read the book as it is formatted to get the full effect of how these stories are interwoven and effect each other. Though they are plenty of dark moments in the book, the ending does show us signs of hope for the future. The powerful author's note explains why Gratz wrote this book.
Refugee
is an excellent book for book discussions for older middle grade and above in classrooms, book groups, and/or communities looking to increase empathy at time when it is most needed.
Rating:
4.5 stars
Words of Caution:
There is mention of bombings, gunfire, and other war violence in the book. Recommended for Grades 6 and up.
If you like this book try:
Shooting Kabul
by N.H. Senzai,
Escape from Aleppo
by N.H. Senzai