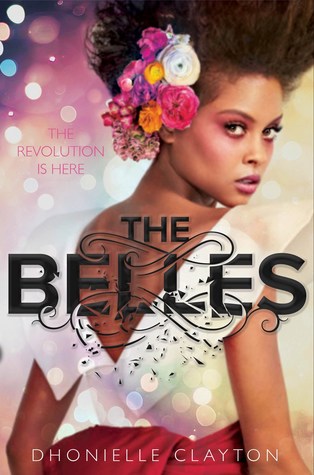 Description:
Camellia Beauregard is a Belle. In the opulent world of Orleans, Belles are revered, for they control Beauty, and Beauty is a commodity coveted above all else. In Orleans, the people are born gray, they are born damned, and only with the help of a Belle and her talents can they transform and be made beautiful. But it's not enough for Camellia to be just a Belle. She wants to be the favorite, the Belle chosen by the Queen of Orleans to live in the royal palace, to tend to the royal family and their court, to be recognized as the most talented Belle in the land.
Once Camellia and her Belle sisters arrive at court, it becomes clear that being the favorite is not everything she always dreamed it would be. Behind the gilded palace walls live dark secrets, and Camellia soon learns that the very essence of her existence is a lie, that her powers are far greater, and could be more dangerous, than she ever imagined. And when the queen asks Camellia to risk her own life and help the ailing princess by using Belle powers in unintended ways, Camellia now faces an impossible decision. With the future of Orleans and its people at stake, Camellia must decide: save herself and her sisters and the way of the Belles, or resuscitate the princess, risk her own life, and change the ways of her world forever.
Review:
The description for Dhonielle
Clayton's latest series, The Belles, is deceptive and superficially appears to be quite similar to other books that offer a social commentary on our world's obsession with beauty and perfection. The Belles, however, manages to rise above those books by also tackling race issues, body diversity, socioeconomic inequalities, and slavery all without using these words to describe them. All of these important issues are timely, but powerfully lurk beneath the lush descriptions of beauty and fabrics that dominate the narrative. Clayton imagines a world in which the drive for perfection is also the greatest ruin.
In Camellia's archipelago world of Orléans, the creation story begins when the God of the Sky fell in love with the Goddess of Beauty but soon grew jealous of the attention she gave to their children, the first humans. In punishment, he cursed them with ugliness: "Skin the color of a sunless sky, eyes the shade of blood, hair the texture of rotten straw, and a deep sadness that quickly turned to madness." In retaliation, the Goddess of Beauty made the Belles, beautiful women who are born with non-gray skin and straw-like hair and who have the ability in their blood to temporarily transform the gray and ugly bodies of the citizens of Orléans into something beautiful.
Camellia and her five sisters are ready to debut in society as Belles and work for an exorbitant fee to work their magic upon the citizens of Orléans when the people's beauty starts to fade. The favorite and most prized Belle will be selected to work for the royal family. Camellia yearns to chosen as the favorite, but her reluctance to follow directions may keep her from the ultimate prize. Once Camellia reaches her ultimate goal, she quickly realizes that world she was trained to live in and work for are nothing like she imagined. Beauty is a deception and a means of acquiring power.
Like the popular phrase, "Beauty is pain", the treatments are cringe-worthy and painful to imagine both for the customer whose bones and skin shuffle to the latest fads and also to the Belle who drains her own energy and have her blood purified by leeches. Along with these revelations, there is also many sinister things lurking around court such as unseen women heard crying at night in locked rooms, disfigured Belles, and sudden deaths that are swept under the carpet. The royal family is also facing terrible challenges: a crown princess who has been in a mysterious sleep for years and a second daughter whose ascension to the throne will be disastrous. Camellia is asked to use her Belle magic in ways it's not intended. She quickly finds herself caught up in a political plot and faced with impossible choices.
Clayton is unafraid to tackle issues that are uncomfortable. She cleverly talks about beauty, especially when it comes to skin-tone, describing it with adjectives usually associated with food such as "the color of toasted walnuts," "the rich color of honey bread," "a sugared beignet fresh from the oil." It's a blatant response on how people of color are commonly described in literature and are in a way that fetishizes and commodifies them. Despite her status as a Belle who is revered in her society, she is often subjected to both. There are many other dualities that appear in the book too such as ugliness and shame.
While the book starts off slowly in the first few chapters are we get settled in the rich and rotting world of Orleans, the action and suspense gains traction. The horror which it cleverly veils slowly creeps up on you and once it clicks you can't unseen it. There is a cliff-hanger ending and some shocking reveals, but I'm okay with it because I know that means there is more to come in this eye-opening series. Don't be fooled or deterred from the pretty cover, The Belles is a thought provoking read that will foster great discussion.
Rating:
4 stars
Words of Caution:
There is a scene of attempted sexual assault and disturbing images. Recommended for Grades 9 and up.
If you like this book try:
Uglies
series by Scott Westerfeld,
North of Beautiful
by Justina Ireland,
The Fold
by An Na,
Such a Pretty Face
edited by Ann Angel