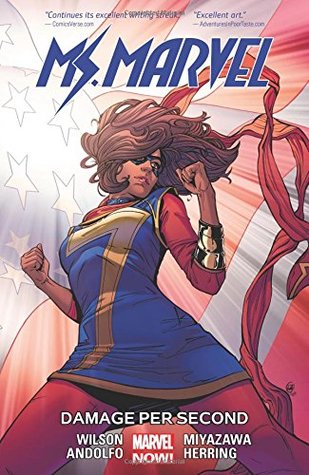 Description:
Civil War II is behind her, and a brand new chapter for Kamala Khan is about to begin! But it's lonely out there for a super hero when her loved ones no longer have her back. It's time for Kamala to find out exactly who she is when she is on her own. Plus: it's election time! Kamala gets out the vote!
Review:
Volume 7 is the weakest volume of the otherwise fantastic Ms. Marvel graphic novel series. Though the first story focuses on an important issue of the importance of voting and how to register to vote, it comes across as a public service announcement instead of a story in a graphic novel. I also didn't care for the second story with its nod to the gaming culture and what happens when it goes too far. Out of the three stories, I did enjoy the last one where see Bruno in Wakanda and seeing how he is adjusting to his new school and environment. Definitely not my favorite in the Ms. Marvel series.
Rating:
3 stars
Words of Caution:
There is some strong violence and minor language. Suitable for middle grade readers and up.
Description:
The villains are at Kamala's door, and Ms. Marvel has to save a city that doesn't want saving. The malleable Ms. Marvel continues her hero's journey as an enemy from her past begins targeting those closest to her, a challenge that calls into question everything about her -- not just as a super hero, but as a human being! Who can Ms. Marvel trust when everyone in Jersey City is against her? As Kamala's life hangs in the balance, a new crime fighter moves in on her turf. Plus: Bruno may be far away at a prestigious school in Wakanda, but even thousands of miles from his former best friend, Kamala Khan, adventure still finds him!
Review:
We are finally back on track with the latest volume in the Ms. Marvel graphic novel series! The inclusion of Pakistani and Islamic culture along with the fun action adventure of superheroes is what makes this graphic novel series stand out and a personal favorite of mine. I identify with Kamala on many levels though I sadly lack her super powers. This volume like the last one uses our contemporary political issues as a platform. Ms. Marvel is more than a superhero, she is a social activist who is ready to help her community, but she is demonized and targeted by right wing members who want to make New Jersey great again by removing people with super powers and placing stricter immigration policies which directly affects Kamala's own family. As Kamala tries to make sense of the situation, she is rejoined by her friend Kareem who she met while in Pakistan. Kareem is the Red Dagger who brings chemistry and intrigue to the series. I really like his banter with Kamala and I'm hoping he will be a continuing character/ possible new love interest. The dialogue in this volume is smart with the right amount of zing and humor, which matches the introspective and action panels alike. There were many times when I laughed out aloud. I'm really looking forward to the next volume.
Rating:
4 stars
Words of Caution:
There is some strong violence and minor language. Suitable for middle grade readers and up.
If you like these book try:
The Shadow Hero
by Gene Luen Yang,
The Unbeatable Squirrel Girl
by Ryan North,
Thor: The Goddess of Thunder
by Jason Aaron,
The Adventures of Superhero Girl
by Faith Erin Hicks