I'm delighted to today to introduce you all to C.L. Hoang, who just released his new book today called Once Upon a Mulberry Field which is about a

multicultural love story set during the Vietnam War. If you are a fan of historical fiction and/more mixed race romance, do take a look at the book.
What inspired you to write Once Upon a Mulberry Field?

I started the book as a nostalgia project for my father so that we could capture memories of our family's earlier life in Saigon, Vietnam, during the war. As I researched that time period to ensure accuracy, I discovered another perspective of the war—as experienced by American service people who fought over there and by their families in the States. I ended up merging these two contrasting points of view, in hopes of providing a more complete picture of that turbulent chapter in the history of both countries. But rather than being a "war book," Once Upon a Mulberry Field is first and foremost a love story—an ode to the old and the new homelands, and a celebration of the human spirit and the redemptive power of love.

In Once Upon a Mulberry Field, the main character, Roger Connors, is a U.S. Air Force physician sent to Vietnam during the height of the war. Why did you decide to tell the story from an American point of view?

In an attempt to be objective and to view things from a different perspective from the one I had known growing up, I chose to recount the events through the voice of an American soldier. Needless to say, it was an eye-opening experience.

Roger and his fellow USAF buddies have differing views about the war in Vietnam. What can you tell us about the atmosphere surrounding the war and the way it was viewed in both America and South Vietnam?

In South Vietnam, the war was about preventing communism from destroying the budding and fragile democracy—a matter of crucial survival. In America, it was a controversial and misunderstood war, with the unpopular draft and the constant drumbeat of violence and gore shown nightly on TV news heightening the tension and anxiety among the public. There was widespread misinformation and confusion, fanned by undeniable passions on all sides.

There are two women in Roger's life: the beautiful Vietnamese widow, Lien, and his fiancée at home, Debbie. How would you characterize his relationship with each of these women? In your view, does he feel differently toward one or the other?

The two women symbolize the clashing worlds confronting Roger. Debbie represents the familiar, secure home setting where things are as they seem—tangible, comforting, as lovely and dependable as the sunny California weather. Lien, on the other hand, is the daughter of an exotic tropical land, beautiful and tragic, who appears and vanishes without warning, like a monsoon thundershower. Roger thus finds himself constantly in the grips of a struggle between stormy passion and lifelong friendship.

You interviewed a number of Vietnamese and American civilians and veterans as part of your research for this novel. What did you learn in these interviews and how did they influence the story you tell in Once Upon a Mulberry Field?

I learned that nothing is ever as black-and-white as we like to assume, and that truth is often inconvenient and blinded by the passions of the time. This insight gave me a more compassionate understanding of the characters and what they went through, no matter what their feelings about the war.

Are you working on another novel? If so, what can you tell us about it?

Vietnam is a beautiful country with a rich cultural heritage. I'd like to capture in writing some of that heritage as I still remember it—ancient folklore that highlights the universal human condition and spirit. It may come in the form of a new novel, or a collection of short stories.

About the book:

A mesmerizing debut novel, Once Upon a Mulberry Field tells a heartrending tale of American and South Vietnamese love at a time when both countries were torn apart by war. Set at Bien-Hoa Air Force Base near Saigon in 1967, at the height of the war and the Tet Offensive, the novel explores the blossoming romance between a U.S. Air Force doctor, Roger Connors, and Lien, a young Vietnamese widow working as a hostess at a Saigon club. As the war progresses and political offensives set the country in turmoil, Roger and Lien are forced into circumstances that tear them apart. Many years later, Roger receives a cryptic note from a long-lost Air Force buddy announcing the visit of an acquaintance from Vietnam. The startling news resurrects ghosts of fallen comrades and haunting memories of a decades-old secret that Roger and Lien once shared.
About the Author
: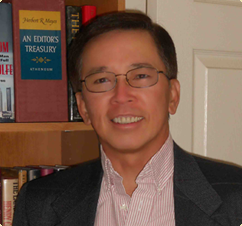 C. L. Hoang was born and raised in South Viet-Nam and came to the United States in the 1970s. He graduated from the University of California, Berkeley, and earns his living as an electronic engineer, with eleven patents to his name to date. Books, history, and travel are his hobbies, and "Once upon a Mulberry Field," a love story set at the height of the Vietnam War, is his first novel, a project from the heart that took six years to complete. For more information on C. L. Hoang or
Once Upon a Mulberry Field
, please visit:
www.mulberryfieldsforever.com
or
www.amazon.com
.