After reading a series of tough and dark reads, I needed a break and wanted to pick up a fun read. Though
All Fall Down
by Ally Carter has some serious aspects, there is plenty of action that kicks off this new, entertaining, and promising spy thriller series.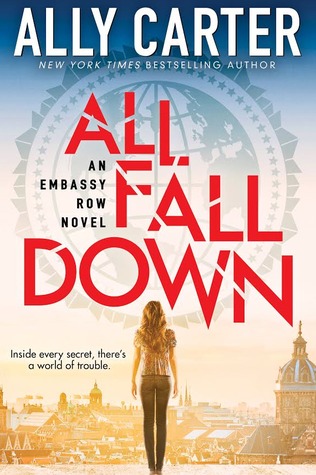 Description (from the publisher):
Grace Blakely is absolutely certain of three things:
1. She is not crazy.
2. Her mother was murdered.
3. Someday she is going to find the killer and make him pay.
As certain as Grace is about these facts, nobody else believes her -- so there's no one she can completely trust. Not her grandfather, a powerful ambassador. Not her new friends, who all live on Embassy Row. Not Alexei, the Russian boy next door, who is keeping his eye on Grace for reasons she neither likes nor understands.
Ev
erybody wants Grace to put on a pretty dress and a pretty smile, blocking out all her unpretty thoughts. But they can't control Grace -- no more than Grace can control what she knows or what she needs to do. Her past has come back to hunt her . . . and if she doesn't stop it, Grace isn't the only one who will get hurt. Because on Embassy Row, the countries of the world stand like dominoes, and one wrong move can make them all fall down.
Review:
Despite how many times she has been told that her mother was killed in a tragic accident,
Grace Blakely's gut tells her otherwise. With her own eyes, Grace witnessed her mother's death. She remembers the gun, the bullet wound in her mother's chest, a man with a facial scar, and an explosion just before the shop was engulfed in flames.
After three years in treatment for post-traumatic stress, Grace has returned to where she spent her childhood. She is once again living in the U.S. embassy in Adria, Italy, where her grandfather serves as ambassador. Grace is haunted by flashbacks of her mother, particularly the night that she died, and surrounded by people who believe she is crazy.
I really liked Grace and admired her determination to prove that her mother was murdered even though the lengths she took to prove her point were extremely dangerous. Grace acts on her impulses and her hunches, especially when she identifies the man with the scar that was present when her mom died, without thinking of what repercussions it would cause to the U.S. diplomatic relations with other countries. that the death was an accident. Normally this aspect of her character would annoy me greatly, but in
All Fall Down
it works mainly because Carter handles her premise and characters with gravity. Unlike her previous series such as the Gallagher Girls and Heist Society where there is a lot of humor and flirtation among the characters to lighten the mood,
All Fall Down
is much somber in comparison. There are a few jokes here and there along with a potential romance on the horizon, but for the most part Grace isn't distracted by these elements as she is solely focused on proving her sanity, finding answers to her questions, and bringing her mother's murderer to justice.
The plot moves as a steady pace as Carter plays with Grace's mental health as well as the shadowy actions of other members on Embassy Row. While I would have liked to believe Grace is right about her mother's death, there were times where even I wasn't so sure about Grace until the book ended with a very clever plot twist. I also liked how Carter used the Embassy Row as her setting allowing for diverse characters from different countries play a large part in her book though they are simply introduced in this book but I do believe she will flesh out these characters as the series continues. Filled with intrigue, action,
All Fall Down
is a solid series opener that left me wanting to know more. I'm really looking forward to the next book in the series. I think this would be a great pick for reluctant readers and for readers who enjoy spy thrillers.
Rating:
4 stars
Words of Caution:
There is some violence, but most take place off the page. There is also a scene in which Grace is drugged and kidnapped. Recommended for Grades 7 and up.
If you like this book try:
Dark Eyes
by William Richter,
The Night She Disappeared
by April Henry,
Also Known As
by Robin Benway