I fell in love with Rainbow Rowell's writing in
Eleanor and Park
and I immediately put her on my auto-read list. I finally made time to read
Fangirl
which is also listed on the Abraham Lincoln Book Award list for this year.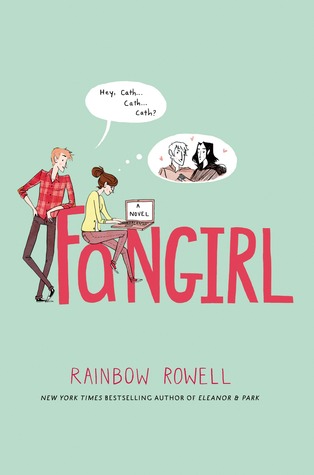 Description:
Cath and Wren are identical twins, and until recently they did absolutely everything together. Now they're off to university and Wren's decided she doesn't want to be one half of a pair any more - she wants to dance, meet boys, go to parties and let loose. It's not so easy for Cath. She's horribly shy and has always buried herself in the fan fiction she writes, where she always knows exactly what to say and can write a romance far more intense than anything she's experienced in real life.
Now Cath has to decide whether she's ready to open her heart to new people and new experiences, and she's realizing that there's more to learn about love than she ever thought possible.
Review:
While I enjoyed
Fangirl
I didn't enjoy it as much as
Eleanor and Park
and one of main reasons why is my inability to understand the passion of fanfiction, which is a huge aspect of
Fangirl
. As much as I would love to see some of my favorite fictional characters live on and have more adventures, I really have had no desire to read or write fanfiction. This lack of understanding made it a bit hard to relate to Cath at times, the main character of Fangirl, who would much rather live in the fantasies that she writes about rather than reality. I did, however, empathize with Cath's fear and anxiety of starting her first year of college.
Cath's personal growth and her complex personality are what I thoroughly enjoyed reading in Fangirl.
Cath is someone who enjoys her comfort zone. She is incredibly witty, funny, adorkable, painfully shy, and socially awkward. Though she would rather keep to herself, she does at the same time feel left out of the "college experience". Throughout the book, she is
continually pushed outside her comfort zone: by befriending her snarky roommate, Reagan; by Levi, Reagan's ex-boyfriend with the smiles and floppy hair (who always seems to want to hang out at her dorm room without any invitation just because); by her fiction-writing professor who challenges her in writing and going beyond her hobby of writing fanfiction; by her manic but well-meaning father; and even by her estranged mother who left an indelible mark on her life. Cath's obsession and passion of writing her fanfiction escalate as her anxieties are heightened. She can no longer rely on her sister to help her navigate the waters of school. On her own Cath is learning how to overcome her insecurities and learning to balance family and school responsibilities with her writing and romantic interests in order to discover what truly matters in her life. Cath's passion for Simon Snow was so contagious that I eventually succumbed to fangirling beside her as she writes her take on the Simon Snow story and I wanted to learn more (which thankfully I did after finishing Rowell's latest Carry On and yes, it's really good! I hope to write a review soon).
Like she did in Eleanor and Park and her other books, Rowell creates characters with heart and with flaws. All of the characters, including the secondary characters stand on their own and are fleshed out. There is a nice balance between the whimsical fanfiction/fandom scenario along with the hard hitting issues such as the evolving sibling relationship, trying to understand parental abandonment and mental health issues such as social anxiety and bipolar disorder. There are also plenty of heart warming moments as Cath and Levi's romance slowly blossoms and starts off awkwardly until the two characters hit their stride since this is Cath's first real relationship.
Fangirl
is a sophisticated coming of age novel that readers embarking on a new journey themselves will find a lot to relate to and to enjoy.
Rating:
4 stars
Words of Caution:
There is some strong language in the book as well as frank discussion of sex. There are some scenes of college partying which includes underage drinking. Recommended for Grades 9 and up.
If you like this book try:
Just One Day
by Gayle Forman and
Isla and the Happily Ever After
by Stephanie Perkins,