Cat Winter's
The Steep and Thorny Way
is one of my anticipated reads for 2016. It combines all of my interests: historical fiction of a lesser known time period, Shakespeare, murder mystery, and best of all a diverse cast of characters. Many thanks to Amulet books and Netgalley for the advanced copy of the book.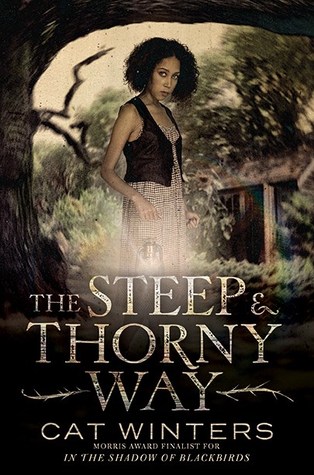 Description:
1920s Oregon is not a welcoming place for Hanalee Denney, the daughter of a white woman and an African-American man. She has almost no rights by law, and the Ku Klux Klan breeds fear and hatred in even Hanalee's oldest friendships. Plus, her father, Hank Denney, died a year ago, hit by a drunk-driving teenager. Now her father's killer is out of jail and back in town, and he claims that Hanalee's father wasn't killed by the accident at all but, instead, was poisoned by the doctor who looked after him—who happens to be Hanalee's new stepfather.

The only way for Hanalee to get the answers she needs is to ask Hank himself, a "haint" wandering the roads at night.
Review:
The Steep and Thorny Way
is a historical murder mystery set in the 1920s Oregon. Winters does an incredible job in setting up the scene and era of the lesser known time period in Oregon. We normally think of the 1920s as the Roaring Twenties with flappers and gaudy parties of those of Fitzgerald's
Great Gatsby
and tend to forget that the 1920s is also an era of extreme intolerance exacerbated by the violence from the Ku Klux Klan against those who do not uphold their values. The inclusion of photographs is also a wake-up call in reminding us that the events described in the book actually happened. What I found to be extremely disturbing is that racism and even homophobia are very subtle, often made in an offhanded remark such as suggesting to use a skin lightener or suggesting you have a mental illness because of your sexual identity. Although these comments are indirectly made, they are still powerful, disturbing, and prevalent throughout the book not to mention even in our society today.
The book centers around Hanalee, a biracial teen who seeks justice for her murdered father in Prohibition-era Oregon. As the daughter of a white woman and an African-American man, she has few legal rights during the 1920s but she is determined to help her restless father's ghost put to peace.
Hanalee's father, "the last full-blooded Negro in Elston, Oregon," was struck and killed by Joe Adder, a drunk-driving teenager a year earlier. When Joe is released from prison, he tells Hanalee that the doctor who tended to her father the night of the accident is the real killer and the doctor is Hanalee's new stepfather.
I had a hard time getting into the story at first. I felt the story was initially too confined to the plot of Shakepeare's Hamlet. I spent my time making connections between the novel and the play, which slowed my reading pace and made me a bit distracted. Luckily, the story begins to stand on its own two feet and uses the play as its guidance as the murder mystery deepens as we learn in bits and pieces about what happened on that frightful night when Hanalee's father died. I really enjoyed watching Joe and Hanalee's friendship grow from initial adversaries to marginal allies as they both open about their own struggles. I also liked that the murder mystery was slow burned and it took its time in fully formulating which again helped reinforced the time period and the book's central issues and themes. I was definitely taken aback on the discovery of the eugenics movement and the "medical treatment" that were given to people because they were part of a minority.
I would recommend
The Steep and Thorny Way
to readers who enjoy historical fiction and also to readers who enjoy a slow burn murder mystery with depth. Though it takes a while for the story to find its pace, it is most definitely a worth while read.
Rating:
4 stars
Words of Caution:
There is some language, crude sexual humor, and racial and homophobic slurs. Recommended for Grades 8 and up.
If you like this book try:
Out of Darkness
by Hope Ashley Perez,
Flygirl
by Sherri Smith,
Under a Painted Sky
by Stacey Lee,
Conviction
by Kelly Loy Gilbert