I really enjoyed Kwame Alexander's Newbery winning book, The Crossover. I have been recommending the book to both reluctant readers as well teens who love basketball. I will definitely will do the same with
Booked
.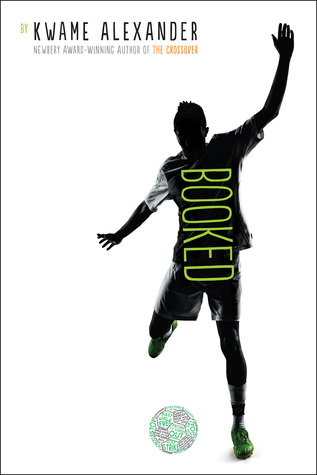 Description:
In this follow-up to the Newbery-winning novel The Crossover, soccer, family, love, and friendship, take center stage as Nick learns the power of words as he wrestles with problems at home, stands up to a bully, and tries to impress the girl of his dreams. Helping him along are his best friend and sometimes teammate Coby, and The Mac, a rapping librarian who gives Nick inspiring books to read.
Review:
Although soccer plays a big part in the book and in Nick's life, the real focus of Booked is family relationships. Nick is dealing with his parent's impending divorce and how the sudden announcement is affecting his relationship with his parents, especially with his father. his ties to his parents are strained.
While I didn't like this book as much as
The Crossover
which I thought had more energy, I still enjoyed it. The book does a great job in balancing soccer and that of Nick's issues at home, humor, a dash of romance, and even incite to bullying. The chapters are short and the poems vary in length and in style. I also liked the nod to Langston Hughes' poetry. Being a bibliophile and a librarian, is it no surprise that I especially loved how reading and the love of words are used throughout the book. For example, Nick's father has written a dictionary and it is part of Nick's "homework" to read and learn the words in the dictionary which Nick hates to do. It is not until Nick's crush tells him that she finds his large vocabulary sexy that it changes his outlook on both learning new words and eventually reading. There are also some vocab words that are peppered throughout the story, which I didn't know and will now be adding to my own vocabulary.
I would certainly be remiss if I did not mention the awesome Mr. MacDonald aka "The Mac" who is a rapping librarian and who relentlessly tries to entice Nick with books. With Booked, Alexander has shown younger readers that reading and learning words is cool. I just hope they will hear the message.


Rating: 4 stars

Words of Caution: None. Recommended for Grades 5 and up.

If you like this book try: The Crossover by Kwame Alexander, Words with Wings by Nikki Grimes, Locomotion by Jacqueline Woodson, Lost in the Sun by Lisa Graff