I didn't know much about Julie Berry's latest book,
The Passion of Dolssa
, when I picked it up and that was a good thing. I only knew that the setting was Medieval France and it featured strong female characters. The book has received several starred reviews in library journals and was listed on several recommendations list. This book is not for everyone, but I would definitely recommend it if you are in the mood for a serious, well written historical fiction novel.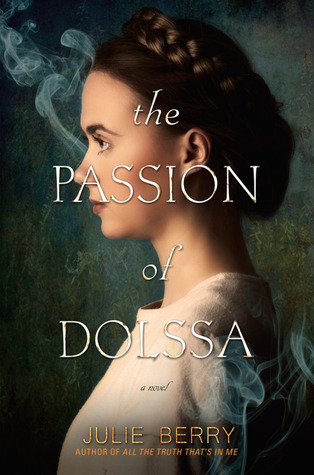 Description:
Dolssa is a young gentlewoman with uncanny gifts, on the run from an obsessed friar determined to burn her as a heretic for the passion she refuses to tame.
Botille is a wily and charismatic peasant, a matchmaker running a tavern with her two sisters in a tiny seaside town.
The year is 1241; the place, Provensa, what we now call Provence, France—a land still reeling from the bloody crusades waged there by the Catholic Church and its northern French armies.
When the matchmaker finds the mystic near death by a riverside, Botille takes Dolssa in and discovers the girl's extraordinary healing power. But as the vengeful Friar Lucien hunts down his heretic, the two girls find themselves putting an entire village at the mercy of murderers.
Review:
The Passion of Dolssa
is a story within a story. The overall arcing story is that of a friar from 1290 who is collecting papers and testimonies that will show how the inquisitions on the Spain and France border were done in the name of God. The tale of Dolssa troubles him and that is where we are introduced to our main cast of characters and where our second story starts.
Botille is a sassy teenager who makes money in her seaside village of Bajas by matchmaking. Losing her mother at a very age young and having an alcoholic father has made Botille and her sisters very close. Unlike the other girls in their village, Botille and her sisters have to fend for themselves. Along with Botille's matchmaking skills, elder sister Plazensa runs the tavern and baby sister Sazia tells fortunes with uncanny accuracy. I absolutely loved these three ferociously independent sisters. It was refreshing to see sisters who genuinely love each other and get along so well with one another.
To the north, in Tolosos, there is a much different girl than Botille whose name is Dolssa. Aristocratic by birth and a mystic by the grace of God, she spends her days with her "beloved," Jesus, who wraps her in his murmurs and consumes her with his love. Her passion, which is referenced in the book's title, cannot be contained, and Dolssa begins telling others how much her beloved cherishes all people. The simplicity of her message is seen by the inquisitors as a threat to the church, a devil's deception, and there is only one place it can end: in a public burning. Miraculously, Dolssa escapes the pyre. She wanders until she meets Botille, who saves and shelters her.
To be honest, when I read about Dolssa and the religious aspect of the book, I was not sure if I would even finish the book, much less actually enjoy it. I was afraid that I would not find Dolssa approachable, but when she meets Botille and becomes open minded, I did not mind her so much. I was so relieved to find that Berry combines religion and the slice of life of medieval France in a balanced, beautifully crafted story which is not easy to do. Like any great historical fiction novel, I learned a lot while reading the book. I didn't know much of the Inquisition beyond the quick gloss in my history classes.
While the plot is great in its simplicity, Berry brings her story to another level by establishing a convincing, descriptive setting by sprinkling some Old Provencal language in the dialogue. It is quite clear that the author has done extensive research about the Inquisition, a time period which is not touched upon in YA literature (of my knowledge). The story is also told from many perspectives in addition to Botille and Dolssa and each of these point of views were important to the story and exposed the motives of various characters, particularly revealing how worthy ideas can turn into terrorizing actions, and how fear and self-preservation can make friends and neighbors turn on one another.
The book's pacing is quite slow at first as Berry takes her time in laying the foundation to her book, but after the first initial chapters, the pacing picks up as Dolssa and Botille meet. Although the book covers heavy topics and has several dark moments, there is also lighter moments in the book and hints at romance in the book. There are also suspenseful moments as the Inquisitors come close to finding Dolssa. My favorite parts of the book are the strong female friendship that develop between Dolssa, Botille, and Botille sisters. These women are not afraid to sacrifice their lives and comfort to help one another.
I was so thankful to find a glossary and additional information in an author's note that talked about the religious discord, inquisitions, wars, and other female mystics that were referenced in the novel. I only wished that the list of characters was placed in the front of the book instead at the end. Some readers will shrink away from picking up this book because of the religious-centric themes in the book, but I didn't find the religious aspects heavy handed or preachy but rather a fascinating discussion on the different ways people interpret their faith and spirituality.
Rating:
4 stars
Words of Caution:
There is strong violence throughout the book as people are burned alive at the stake, tortured, and captured. There is some crude humor and a lecherous clergyman who seduces and sleeps with young women. Due to the mature topics and writing style, I would recommend this book to older teens and adults.
If you like this book try:
The Apprentice's Masterpiece: a story of Medieval Spain
by Melanie Little,
The Day of Atonement
by David Liss,
Code Name Verity
by Elizabeth (especially if you are interested in female friendships in tight situations)