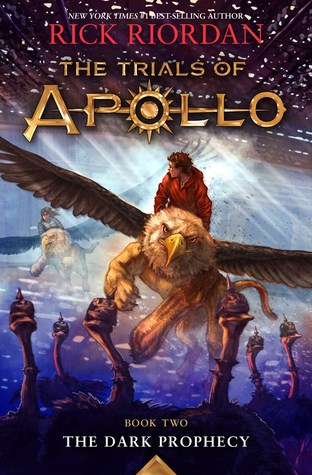 Description:
After experiencing a series of dangerous—and frankly, humiliating—trials at Camp Half-Blood, Apollo must now leave the relative safety of the demigod training ground and embark on a hair-raising journey across North America. Fortunately, what he lacks in godly graces he's gaining in new friendships—with heroes who will be very familiar to fans of the Percy Jackson and the Olympians and Heroes of Olympus series.
Review:
The Dark Prophecy
is the second book in the Trials of Apollo series in which the Greek god Apollo has lost his powers and immortality and has been brought to Earth as an acne ridden American teenager. While the Dark Prophecy is a quick, fun read it is also a transitional book in the series. Apollo must work with other demigods, prominent in Riordan's Percy Jackson and Heroes of Olympus series, to help save Meg and other characters from a dark demise.
I still find Apollo highly amusing from his self absorbed "woe is me" haiku poems that preface each chapter. I like that his human side is allowing him to see his own flaws and become a stronger person and character. While there are no particular myths that this series retells there are stories that are closely with Apollo that are interwoven in this series. I also appreciate Riordan's attention to diversity in his works as Apollo openly discusses his bisexuality plus meeting lesbian parents, and we meet demigods from various ethnicities and races throughout the series. It is not until the last few pages that a cryptic prophecy is revealed which clearly sets up the next book in a series. If you are interested in seeing why Riordan is super popular, I would highly recommend picking up the Percy Jackson and the Olympians series first as it sets up the foundation for his later series and gives you a sense of Riordan's trademark humor, action, and mythology retelling. I'm really looking forward to seeing where Riordan takes Apollo next.
Rating:
4 stars
Words of Caution:
There are some disturbing scenes in the book and some of the stories mentioned in the book are quite violent. Recommended for Grade 6 and up.
If you like this book try:
Olympians: Apollo by George O'Connor graphic novel, The Burning Maze by Rick Riordan (Trials of Apollo #3 coming in May 2018)