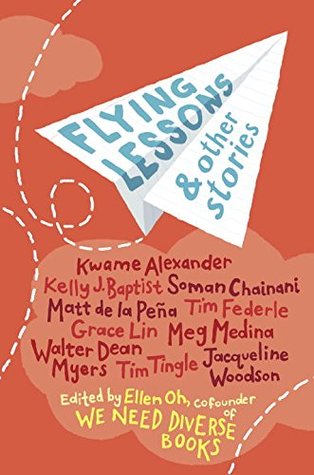 Description:
Whether it is basketball dreams, family fiascoes, first crushes, or new neighborhoods, this bold anthology—written by the best children's authors—celebrates the uniqueness and universality in all of us.
Review:
Flying Lessons and Other Stories
is a short stories collection for middle grade readers, published in partnership with We Need Diverse Books. The stories are written by some of the best middle grade/young adult writers: Kwame Alexander, Matt de la Peña, Jacqueline Woodson, Soman Chainani, Grace Lin, Walter Dean Myers, Tim Federle, Meg Medina, Tim Tingle, and Kelly Baptist. All of these stories feature protagonists who deal with issues associated with growing up- fitting in, being excluded, dreams, family, friendships, crushes, and even learning life lessons along the way.
I enjoyed all of these stories, however, there were a few that stood out to me. I loved how Matt de la Peña's story where playing basketball is the same as surviving and escaping a cage where the protagonist feels is too confining. Though he is faced with roadblocks from being taunted about his appearance and his lack of time on the court, the main character still manages to learn important lessons on and off the court. Woodson's haunting "Main Street" follows Celeste, the only girl of color in an all-white New Hampshire town, and her friendship with lifetime resident Treetop. Both are suffering from different losses: Treetop's mother has recently passed away, and Celeste isn't accepted in her new home. Their warm connection soothes their mutual pain and promises to last even after Celeste and her mother decide to return to familiar and welcoming New York. In Soman Chainani's story the main character is forced to go on vacation with his eccentric and emotionally distant grandmother only to find out that she wasn't distant at all but wanted her grandson to take risks and go out of his comfort zone. This is a very inclusive, strong short stories collection.
Rating:
4 stars
Words of Caution:
None. Recommended for Grades 4 and up.
If you like this book try:
Amina's Voice
by Hena Khan,
Ghost
by Jason Reynolds
Labels: 2017 Reading Challenge, 4 stars, Childrens, Diversity, Family, Friendship, Humor, Realistic Fiction, Short Stories, Sports, YA