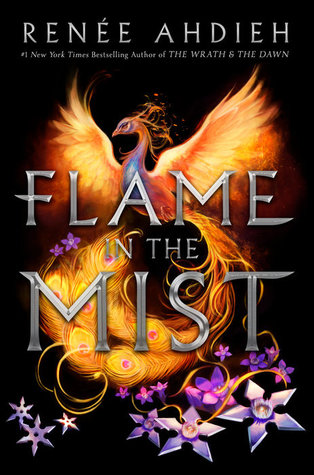 Description:
The only daughter of a prominent samurai, Mariko has always known she'd been raised for one purpose and one purpose only: to marry. Never mind her cunning, which rivals that of her twin brother, Kenshin, or her skills as an accomplished alchemist. Since Mariko was not born a boy, her fate was sealed the moment she drew her first breath. Mariko is sent to the imperial palace to meet her betrothed, a man she did not choose, for the very first time. But the journey is cut short when Mariko's convoy is viciously attacked by the Black Clan, a dangerous group of bandits who've been hired to kill Mariko before she reaches the palace.
The lone survivor, Mariko narrowly escapes to the woods, where she plots her revenge. Dressed as a peasant boy, she sets out to infiltrate the Black Clan and hunt down those responsible for the target on her back. Once she's within their ranks, though, Mariko finds for the first time she's appreciated for her intellect and abilities. She even finds herself falling in love—a love that will force her to question everything she's ever known about her family, her purpose, and her deepest desires.
Review:
I was not a fan of
The Wrath and the Dawn
duology, which in my unpopular opinion is too focused on the romance and light on the fantasy/retelling apects, but I did see Ahdieh's potential as a writer so I decided to pick up her second duology. I enjoyed Flame in the Mist, which is set in feudal Japan, much more and though it resolved some of my major issues with her previous series, there are still some aspects that still need to be developed.
Mariko is bound to the empire's center and has been destined to marry the royal son as part of an arranged, political marriage. Her caravan is set upon by raiders who ambush, slash and kill their way through the convoy. Using her wits and cunning, Mariko is the only survivor. Mariko now sets out with a vengeance upon the Black Clan, whom she holds responsible for her attempted assassination and the murder of her convoy.
Mariko is a fierce character who wants more out of life rather than be a political pawn to be used by her royal family. She is clever, but also inexperienced given her sheltered, privileged life. Her plan to disguise herself as a boy and infiltrate the ranks of the Black Clan is not clearly thought through and it does not take long for the leader of the clan, Takeda Ranmaru, to suspect her. The clan's broody, best fighter, Okami, or "The Wolf," is more complex than Mariko originally thinks. There is a slow burning, antagonistic romance building between them as both characters are trying to figure the other out. Interspersed with Mariko's interactions and understanding of the Black Clan, is the political intrigue and the real players behind Mariko's assassination attempt. When Mariko's twin brother, a famed samurai, finds her alive and well, Mariko has to make a decision between her blood family and the newly one that she created with the clan.
Ahdieh's strength lies in her intricate characterizations and detailed descriptions, which held my interest. The continuous lines that invoke female power and gender injustices are anachronistic, but could have been better utilized if it was shown by Mariko rather than told to the reader. There were moments that were slow, but my biggest qualm about the book is the unbalanced amount of magic in the book. During the first half of the book, magic is in the background but then it immediately comes to the forefront without any explanations, especially when it comes to major characters who have the ability to shape shift. I wanted to know more about this aspect and I hope it is discussed in the upcoming finale. As a side note, this book is being pitched as a "Mulan" inspired story, which though it features an Asian female character discussed as a boy, Mulan is a story set in China not Japan. Despite my issues, I look forward to reading the conclusion.
Rating:
4 stars
Words of Caution:
There is some strong and violent images in the book such as a beheading and Hara-Kiri (death of a samurai by suicide). There is also some crude language too. Recommended for Grades 9 and up.
If you like this book try:
Smoke in the Sun
by Renee Ahdieh (coming in June 2018),
Scarlet
series by A.C. Gaughen