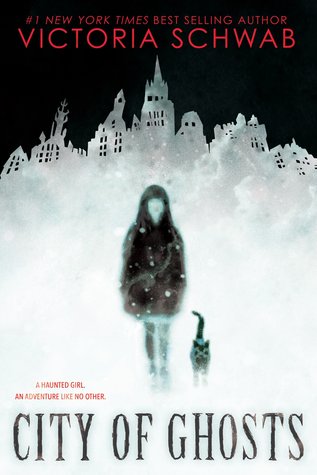 Description:
Ever since her near-fatal drowning, Cassidy has been able to pull back the "Veil" that separates the living from the dead and see ghosts, not that she wants to, and she was really looking forward to a ghost-free summer at the beach; however her parents are going to start filming a TV series about the world's most haunted places, starting with Edinburgh with its graveyards, castles, and restless phantoms--and Cass and her personal ghost companion, Jacob, are about to find out that a city of old ghosts can be a very dangerous place indeed.
Review:
A near-death experience leaves Cassidy Blake altered and with a ghost named Jacob for a best friend. She can also sense other ghosts and when she chooses, she can pull back "the Veil" between the living world and the dead to visit spirits caught in a kind of limbo. When her parents, paranormal investigators who ironically can't see ghosts, begin hosting a ghost-hunting TV show, the Blakes travel to Scotland to film in Edinburgh's most haunted areas, which has an alarmingly strong pull on Cass.
City of Ghost
is a quick spooky read for younger readers. Schwab brings the creepy vibe behind Scotland's graveyard sites to life and it jumps off the page. The book, however, flounders when it tries to juggle with world building of what seems to be a new series and plot of the first book. The world building at times comes across as info dumping when Cassidy and Jacob meet the feisty, know it all Lara Jayne Chowdhury, a British-Indian girl who shares Cass' ability. I was confused as to why only Lara and her dead uncle are the ones who know of the "purpose". The climax of the book comes at a break neck pace and is quickly resolved in a matter of pages. I also wanted to know more about Cassidy as a person and a backstory of Jacob which we sadly do not get in this story. Still I am intrigued enough to pick up the next book in the series but it will not be on the top of my reading pile.
Rating:
3 stars
Words of Caution:
There are some disturbing images and stories about some of the adult ghosts such as a serial killer. Recommended for strong Grade 4 readers and up.
If you like this book try:
Lockwood and Co. series by Jonathan Stroud