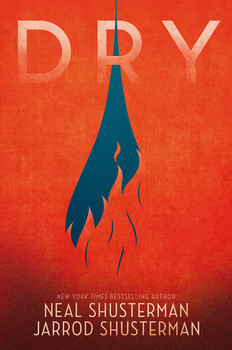 Description:
The drought—or the Tap-Out, as everyone calls it—has been going on for a while now. Everyone's lives have become an endless list of don'ts: don't water the lawn, don't fill up your pool, don't take long showers. Until the taps run dry.
Suddenly, Alyssa's quiet suburban street spirals into a war zone of desperation; neighbors and families turned against each other on the hunt for water. And when her parents don't return and her life—and the life of her brother—is threatened, Alyssa has to make impossible choices if she's going to survive.
Review:
Shusterman's latest YA thriller is scarily realistic and plausible. In the near-future or alternate-present America, a prolonged drought called the Tap-Out results in the sudden depletion of Southern California's water supply. When their parents vanish while seeking desalinated water, Alyssa and her 10-year-old brother Garrett embark on a harrowing journey, searching for their parents and fending for themselves as society around them deteriorates. Along the way, the siblings pick up three teens: their survivalist neighbor Kelton, unpredictable lone wolf Jacqui, and calculating opportunist Henry.
Dry alternates between the teens' distinct viewpoints and intersecting snapshots that supplement the backdrop of how others are dealing with the dire circumstances.The snap shots doesn't distract the reader and only enhances the hysteria, suspense, and time constraints on our characters until they die of dehydration. I liked Alyssa but she came across as your generic teen. I would have much rather preferred if the story was told by the spirited and impulsive Jacqui. I was intrigued by Kelton's family dynamic who were super prepared for any crisis and I wanted to learn more about them. Henry was well fleshed out despite the limited page time he appeared in the story.
The story does have its share of bleak moments. I did have to suspend my disbelief in the lack of warning before the Tap-Out comes into full swing. I also had questions towards the ending that were not addressed and glossed over. While not my favorite Shusterman novel,
Dry
is a solid dystopian/survival thriller.
Rating:
4 stars
Words of Caution:
There is some language and strong violence in the book. Recommended for Grades 9 and up.
If you like this book try:
Not a Drop to Drink
by Mindy McGinnis