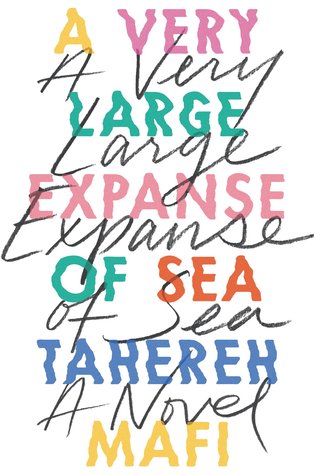 Description:
It's 2002, a year after 9/11. It's an extremely turbulent time politically, but especially so for someone like Shirin, a sixteen-year-old Muslim girl who's tired of being stereotyped.
Shirin is never surprised by how horrible people can be. She's tired of the rude stares, the degrading comments—even the physical violence—she endures as a result of her race, her religion, and the hijab she wears every day. So she's built up protective walls and refuses to let anyone close enough to hurt her. Instead, she drowns her frustrations in music and spends her afternoons break-dancing with her brother.
But then she meets Ocean James. He's the first person in forever who really seems to want to get to know Shirin. It terrifies her—they seem to come from two irreconcilable worlds—and Shirin has had her guard up for so long that she's not sure she'll ever be able to let it down.
Review:
I have been eagerly anticipating Tahereh Mafi's latest contemporary novel centering on Islamophobia called
A Very Large Expanse of Sea
.
A Very Large Expanse of Sea
is a deeply personal read for me as a Muslim American and it mostly succeeds.
Shirin has never settled at any school. She has been constantly moving due to her father's job being relocated. Being an Iranian Muslim who wears hijab and taking the brunt of repeated cruelty because of her hijab, has further alienated Shirin and made her extremely jaded and cynical. She has learned to protect herself from xenophobic threats and insults by being distant and guarded. She only plans to get through high school as quickly and fade into the background until she meets Ocean James, who sees more than just her headscarf and is charmingly persistent about learning who she is, from her love of music to her burgeoning skills on the break dancing team her brother starts. While Shirin is drawn to Ocean's honesty, she is terrified of a possible future: Would a "tentative relationship" even succeed? What happens to him when he is confronted by the hate she receives? Would he stand by her at her utmost vulnerable state?
I really liked Shirin's sharp, crisp, and honest voice as she narrates her story. Constantly dealing with racist and Islamophobic threats has made her abrasive and standoffish. Mafi clearly demonstrates the common comments Muslims teens deal with daily. Mafi holds nothing back when she openly addresses many common misconceptions about Islam and what it means to be a woman of color in the face of racism. I admired how Shirin takes a stand on practicing her faith and makes the reader understand that it is her
choice
to wear the hijab. I would have loved if she discussed why she wears the hijab as everyone has a different reason. I also enjoyed the warm and supportive relationship Shirin has with her older brother.
My biggest issue with
A Very Large Expanse of Sea
is that there is a lot of telling and less of showing. For example, there is a small but important scene in which Shirin meets another Muslim girl who does not wear hijab at her school, who mentions that she is also dealing with Islamophobic comments. This would have been a wonderful opportunity to show this moment in the narrative and focus on a friendship between these two characters. I also was disappointed that we are told about Ocean instead of fleshing out his character. I did not have a good grasp on him as a character, which lead me to not really feel invested in his and Shirin's relationship.
A Very Large Expanse of Sea
is a compelling and compulsive read. It is one of the strongest Muslim #ownvoices contemporary books that are out right now. While not every Muslim reader who picks up this book will agree with Shirin's decisions and/or actions, it will serve a mirror for many of them. While readers may be disappointed in the romance, it will certainly enlighten them.
Rating:
4 stars
Words of Caution:
There is some strong language in the book. Recommended for Grades 8 and up.
If you like this book try:
The Lines We Cross
by Randa Abdel-Fattah,
Love, Hate, and Other Filters
by Samira Ahmed