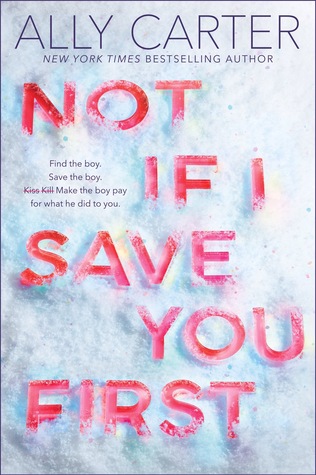 Description:
Maddie thought she and Logan would be friends forever. But when your dad is a Secret Service agent and your best friend is the president's son, sometimes life has other plans. Before she knows it, Maddie's dad is dragging her to a cabin in the middle of the Alaskan wilderness. No phone.
No Internet. And not a single word from Logan.
Maddie tells herself it's okay. After all, she's the most popular girl for twenty miles in any direction. (She's also the only girl for twenty miles in any direction.) She has wood to cut and weapons to bedazzle. Her life is full. Until Logan shows up six years later and Maddie wants to kill him. But before that can happen, an assailant appears out of nowhere, knocking Maddie off a cliff and dragging Logan to some unknown fate. Maddie knows she could turn back- and get help. But the weather is turning and the terrain will only get more treacherous, the animals more deadly. Maddie still really wants to kill Logan. But she has to save him first.
Review:
Not If I Save You First
is another smart romantic thriller from Ally Carter. The book opens on a high adrenaline pace as Maddie Manchester's father, a secret service agent, averts a near fatal incident. Six years later best friends and once-inseparable Maddie and Logan, the son of the POTUS, have lost contact. Maddie has been relocated to the remote Alaskan wilderness. Aside from her father, Maddie interacts with no one and has left her easy life behind. She has learned to fend for herself, forcing her to become physically and mentally strong. Her old life has become a distant memory until Logan shows up at her door after he pushes his parents too far. Logan is very different from what Maddie remembered. The tension and anger that surrounds their friendship is palpable and real. Before discussing it, Logan is suddenly missing. Maddie is immediately thrust into a desperate hunt to save Logan from his kidnappers, armed with only her wits and skills.
Carter knows how to write a fun, fast paced thriller that has a good balance of action, angst, humor, and a little romance to lighten the complex tale of revenge and loss. Maddie is an extremely capable and smart heroine who does not suddenly lose her wits because she is in front of a pretty boy. She applies her survival skills to be a few steps ahead of Logan's kidnappers. She even surprised me a few times with things that I would have never thought of doing. I definitely understood her anger towards Logan and his betrayal of turning his back on her. I enjoyed watching their strained friendship change with a possibility of potentially becoming more. Logan is your typical Carter love interest, a handsome boy with that oozes sarcasm and charm in equal measure and is of course, more preoccupied in keeping Maddie safe when she doesn't need it. I would have love to gotten to know Logan more, but I enjoyed his chemistry with Maddie. With short chapters and the focus of survival, this is a good pick for reluctant readers and anyone who wants to do some escape reading.
Rating:
4 stars
Words of Caution:
There is some violence. Recommended for Grades 7 and up.
If you like this book try:
On the Free
by Coert Voorhees