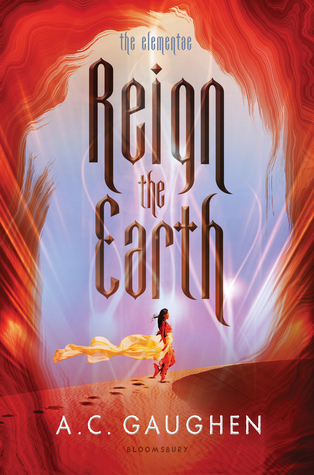 Description:
Shalia is a proud daughter of the desert, but after years of devastating war with the adjoining kingdom, her people are desperate for peace. Willing to trade her freedom to ensure the safety of her family, Shalia becomes Queen of the Bonelands.
But she soon learns that her husband, Calix, is motivated only by his desire to exterminate the Elementae—mystical people who can control earth, wind, air, and fire. Even more unsettling are Shalia's feelings for her husband's brother, which unleash a power over the earth she never knew she possessed—a power that could get her killed. As rumors of a rebellion against Calix spread, Shalia must choose between the last chance for peace and her own future as an Elementae.
Review:
I loved A.C. Gaughen's Scarlet series and have been looking forward to reading her new series Elementae. Thankfully, this series opener does not disappoint. It has all the ingredients that I love in a fantasy: complex and flawed characters, intriguing world building, and a nice balance of politics and romance.
After five years of bloody war and death, desert princess Shaila agrees to marry Calix, King of the Bone Lands, and make peace between their two peoples. Shaila hopes to usher in a new age of peace and prosperity, but her optimism quickly diminishes as she learns her husband's cruelty. As Calix's obsession of ridding the land of Elementae
, a person capable of controlling the elements

, and finding a way to manipulate their powers grows, Shaila discovers that she has the power of an Elementae which puts her life and her unborn daughter in great danger. In seeking security and shelter from her husband's abuse, Shaila grows dangerously close to Galen,
Calix's brother and commander. She

tries to reason with her husband and help her family, but Calix is unwilling. When Shaila learns of Calix's true intent in marrying her, she must decide whether she will continue to work for peace, or ally with the Resistance and fight her husband for those she loves.
This first book is very much a coming of age story of Shaila as she matures from a frightened and sheltered girl in a foreign land to a woman who owns her destiny and her desires.
Shalia is a refreshingly strong heroine with a voice that leaps off the page.

Her strength is yet not physical, however, but lies within her empathy and her strong moral compass. Her growth from performing actions that are expected of her as a wife to an independent woman who has a voice and power take time to build. She is able to identify Calix as an abuser as her personal freedoms diminish and see through his declarations of love while hurting her. Like Shalia, Galen is also a quiet character that while is regulated to the background, he is always present at important times. He is conflicted and torn between his fealty to his brother and overthrowing him.
There is a subtle, slow-burning romance between Shaila and Galen. The reader can easily distinguish an unhealthy relationship and a healthy one. Along with the romantic love, there is also a large focus on familial love or lack there of as we see Shaila interact with her siblings and how Calix orders and demands from his.
The plot moves briskly with lots of action and twists and turns in the story, but I still had lots of questions regarding the Elementaes and their powers. The author is not afraid to pull punches in her story, especially with the last chapters. There is no cliffhanger ending, but I am eagerly awaiting to see what happens next.
Rating:
4 stars
Words of Caution:
There are scenes of torture, domestic violence, and there are allusions to sex. Recommended for Grades 10 and up.
If you like this book try:
Dark Caravan Cycle series by Heather Demetrios,
Vessel
by Sarah Beth Durst