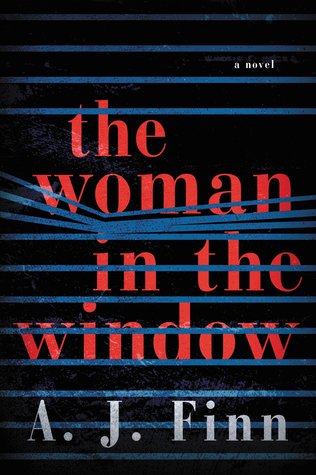 Description:
Anna Fox lives alone—a recluse in her New York City home, unable to venture outside. She spends her day drinking wine (maybe too much), watching old movies, recalling happier times, and spying on her neighbors. Then the Russells move into the house across the way: a father, a mother, their teenage son. The perfect family. But when Anna, gazing out her window one night, sees something she shouldn't, her world begins to crumble—and its shocking secrets are laid bare. What is real? What is imagined? Who is in danger? Who is in control?
Review:
When I attended the ALA Summer Conference in Chicago asked for an adult to teen crossover book, The Woman in the Window by A.J. Finn was highly recommended. I have been looking for a good thriller, but I keep coming up short with books that have lots of potential. This book is in some ways an homage to Alfred Hitchcock's most popular suspense movies as they are constantly referenced throughout the book whether it is playing on the TV in the background or the main character, Anna, quoting famous lines in her inner monologues. The book also attempts to be structured like a Hitchcock film and doesn't quite succeed.
Although the book has incredibly short chapters, it takes a long while for it to get going. We spend a lot of time establishing the main character. Anna Fox was a proficient child psychologist. After a traumatic incident she becomes agoraphobic and has never left her house. She spends her time watching movies, drinking wine profusely (often times with her medication), and spying on her neighbors. Her behavior becomes repetitive and the book finally picks up when she witnesses a crime, we are unsure if it really happened because of her destructive behavior. This is a set up that we have seen numerous times now.
The suspenseful moments are unevenly sprinkled and I wished the author took time to develop the supporting characters in order to allow us to come up with reasons why they may or may not have ulterior motives rather than just telling us. Overall,
The Woman in the Window
is a popcorn, plot driven thriller. It is not groundbreaking and in my opinion not worth the hype, but it an entertaining read on a cold, Chicago night. For teens and adults who can not get enough of thrillers like
Gone Girl
, this will work just fine. I would much rather watch an old Hitchcock film instead. Don't be surprised to see a movie trailer for this as the rights have been already sold before the book was published.
Rating:
3 stars
Words of Caution:
There is some strong language, strong alcohol usage, and prescription drugs. Sexual situations are implied but not graphically depicted. Recommended for older teens and adults.
If you like this book try:
The Woman in Cabin 10
by Ruth Ware,
The Girl on the Train
by Paula Hawkins