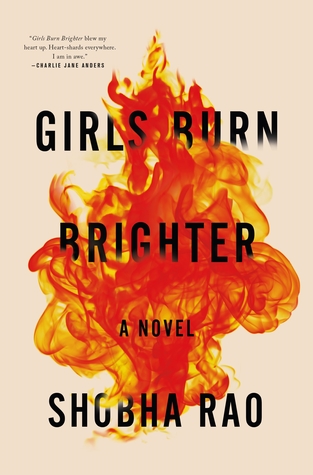 Description:
When Poornima first meets Savitha, she feels something she thought she lost for good when her mother died: hope. Poornima's father hires Savitha to work one of their sari looms, and the two girls are quickly drawn to one another. Savitha is even more impoverished than Poornima, but she is full of passion and energy. She shows Poornima how to find beauty in a bolt of indigo cloth, a bowl of yogurt rice and bananas, the warmth of friendship. Suddenly their Indian village doesn't feel quite so claustrophobic, and Poornima begins to imagine a life beyond the arranged marriage her father is desperate to lock down for her. But when a devastating act of cruelty drives Savitha away, Poornima leaves behind everything she has ever known to find her friend again. Her journey takes her into the darkest corners of India's underworld, on a harrowing cross-continental journey, and eventually to an apartment complex in Seattle.
Review:
Girls Burn Brighter
is a story of sacrifice, exploitation, and reclamation, but most of all it is a story of true and enduring friendship. Poornima and Savitha are two friends and talented weavers who navigate poverty, abuse, and the relentless pressure to find suitable husbands in contemporary South India. In Indravalli their paths cross when Poornima's father hires Savitha to help him meet the demand for new cotton saris. Savitha is very skillful with the charkha, the spinning wheel, and weaving with Poornima is respite from searching garbage dumps for metal and plastic to sell to support her family. Savitha finds in Poornima a sister and friend. Mourning the recent death of her mother from cancer, Poornima finds in Savitha a mother figure, a gifted storyteller, and a confidante. Though weaving brings their world together, a horrific crime tears them apart. Out in the world alone, with no knowledge of each other's whereabouts, they must find a way to maneuver the cruelties lobbed at women with no education, little money, and a desire to want more from life in both India and the United States.
Girls Burn Brighter
is a difficult read that gets bleaker as it continues. There is no glimmer of happiness for neither woman as they find themselves in brutal circumstances and a constant fury of abuse, almost entirely at the hands of men. It is telling that there is not one redeemable male character in the entire book and those who have the potential to be so are problematic. There were many times I had to put the book down because I could not endure Poornima's and Savitha's pain and suffering. The narration alternates between Poornima's and Savitha's points of view. I had no problems distinguishing the two voices because they were each distinct characters. What kept me reading is how resilient and brave Poornima and Savitha are as women whose indefatigable courage it took to escape their circumstances and their undying hope to reunite. I hated the abrupt and ambiguous ending mainly because I wanted to see these women happy after all they have endured.
Girls Burn Brighter
will make you uncomfortable and rage against the many injustices against women, it will also make you think. A great choice for book clubs and book discussions.
Rating:
3.5 stars
Words of Caution:
Domestic abuse, rape, violence, and human traffiking are heavily featured in the book. Recommended for mature teens and adults only.
If you like this book try:
The Color of Our Sky
by Amita Trasi