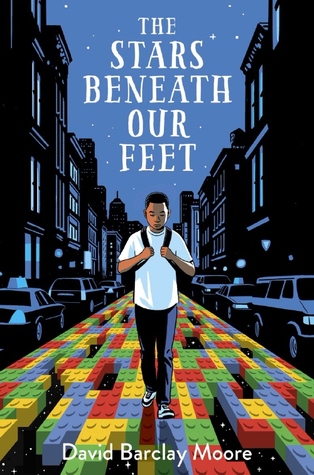 Description:
It's Christmas Eve in Harlem, but twelve-year-old Lolly Rachpaul and his mom aren't celebrating. They're still reeling from his older brother's death in a gang-related shooting just a few months earlier. Then Lolly's mother's girlfriend brings him a gift that will change everything: two enormous bags filled with Legos. Lolly's always loved Legos, and he prides himself on following the kit instructions exactly. Now, faced with a pile of building blocks and no instructions, Lolly must find his own way forward.
His path isn't clear—and the pressure to join a "crew," as his brother did, is always there. When Lolly and his friend are beaten up and robbed, joining a crew almost seems like the safe choice. But building a fantastical Lego city at the community center provides Lolly with an escape—and an unexpected bridge back to the world.
Review:
Wallace "Lolly" Rachpaul lives in the St. Nick projects at 127th street in Harlem, New York. While he loves his neighborhood, he is keenly aware of the poverty, gang violence, drugs, and the gentrification that plagues it. Lolly and his mother are grieving the loss of Jermaine, Lolly's older brother, who sold drugs and joined a gang in order to help his family and was killed due to "crew" violence. His mother has embraced her queer sexuality and his father has left. By making masterpieces with the LEGOs his mom's girlfriend, Yvonne, brings him, Lolly is able to channel his grief into creativity and art, but he is having trouble with understanding his emotions surrounding Jermaine's death. Luckily, at the community center Mr. Ali is able to reach out and help Lolly though Lolly initially sees it as a punishment, but soon he is able to create his own utopia made out of Legos and befriends an outcast named Rose who has autism. Things seem manageable for Lolly until two gang members who are interested in recruiting Lolly to their side and his friend Vega thinks about joining a gang for protection. Lolly has to decide what steps to take next.
Lolly has an incredibly strong voice. He is very observant of his neighborhood and though he is just twelve years old, he seems so much older. Lolly is well aware of "street life" and how his neighborhood crosses many intersections. These intersections are present in many thoughtful ways throughout the novel such as family relationships, particularly those who accepted Lolly's mom's queer sexuality and the friction it still causes with Lolly's father. For Lolly Jermaine was much more than a brother, but a role model and a father figure. Mr. Ali is also a male guardian who though strapped for financial resources, provides a place for black and brown youths to seek help and build a community away from gangs.
The Stars Beneath Our Feet
is very much a slice of life story where tweens have to make very adult life choices. In many ways it is heartbreaking, but also a powerful story of hope for a better future disguised by blocks of Legos.
Rating:
4 stars
Words of Caution:
There is some strong language, street violence, and mention of gangs and drug dealing. Recommended for Grades 5 and up.
If you like this book try:
When I Was the Greatest
by Jason Reynolds,
Long Way Down
by Jason Reynolds
Labels: 2018 Reading Challenge, 4 stars, Childrens, DAC, Death, Diversity, Friendship, Gangs, GLBT, Realistic Fiction, YA