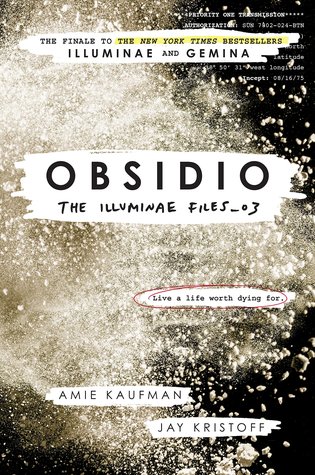 Description:
Kady, Ezra, Hanna, and Nik narrowly escaped with their lives from the attacks on Heimdall station and now find themselves crammed with 2,000 refugees on the container ship, Mao. With the jump station destroyed and their resources scarce, the only option is to return to Kerenza—but who knows what they'll find seven months after the invasion?
Meanwhile, Kady's cousin, Asha, survived the initial BeiTech assault and has joined Kerenza's ragtag underground resistance. When Rhys—an old flame from Asha's past—reappears on Kerenza, the two find themselves on opposite sides of the conflict. With time running out, a final battle will be waged on land and in space, heroes will fall, and hearts will be broken.
Review:
Obsidio
is the last and finale book in the action packed science fiction thriller Iluminae Files series. While the book may appear to be long reads due to its page size, it is actually a fast read due to its unique format. Like its previous installments,
Obsidio
is also written in a mixture of textual formats, which includes case files, emails, online text messages, and images of hand written notes. It is absolutely necessary to have read the first two books before picking this one up as characters, events and consequences from the previous series play a vital role in this book.
Another countdown. Commercial giant BeiTech's invading forces are trapped in a seven-month orbit around the politically unstable mining colony of Kerenza IV, pushing to restore their ship's power so they can get home; meanwhile, the surviving Kerenza colonists are hanging onto their lives and families by a thread. Elsewhere, battered survivors of other BeiTech aggressions are aboard the gunship Mao, on a collision course with Kerenza that will either save or kill them all.
Obsidio retains all of the elements that has made it so popular: unlikely heroes, star-crossed lovers, space opera tropes, and its unique storytelling format which grabs its readers' attention right away and does not let go until the very last page. The body count in this book is large and the strong violence allows the reader to explore the important issues such as responsibility, accountability, the reliance and/or danger of artificial intelligence, and the duality of right and wrong. I don't think I have ever been captivated by an AI like Aiden before who is able to quickly strip away all emotions in order to ask questions that plague humanity. Although the action goes on just a bit too long, the book does deliver a satisfying conclusion to a great series.
Rating:
4 stars
Words of Caution:
There is strong language (though most of it is censored out), strong violence, and some crude sexual humor. Recommended for Grades 9 and up.
If you like this book try:
Starbound trilogy by Amie Kauffman and Megan Spooner, Sky Chaser series by Amy Kathleen Ryan, 2001: Space Odyssey by Arthur C. Clarke, Lifelike series by Jay Kristoff