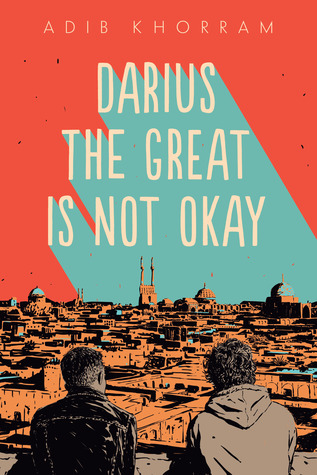 Description:
Darius Kellner speaks better Klingon than Farsi, and he knows more about Hobbit social cues than Persian ones. He's about to take his first-ever trip to Iran, and it's pretty overwhelming--especially when he's also dealing with clinical depression, a disapproving dad, and a chronically anemic social life. In Iran, he gets to know his ailing but still formidable grandfather, his loving grandmother, and the rest of his mom's family for the first time. And he meets Sohrab, the boy next door who changes everything.

Sohrab makes sure people speak English so Darius can understand what's going on. He gets Darius an Iranian National Football Team jersey that makes him feel like a True Persian for the first time. And he understands that sometimes, best friends don't have to talk. Darius has never had a true friend before, but now he's spending his days with Sohrab playing soccer, eating rosewater ice cream, and sitting together for hours in their special place, a rooftop overlooking the Yazdi skyline.

Sohrab calls him Darioush--the original Persian version of his name--and Darius has never felt more like himself than he does now that he's Darioush to Sohrab. When it's time to go home to America, he'll have to find a way to be Darioush on his own.
Review:
When Darius' grandfather becomes terminally ill, Darius, along with his parents and younger sister, travels to Iran for the first time in his life. Iranian on his mother's side and white American on his father's side, Darius never quite fits in. Darius Kellner does not belong anywhere. He always seems to disappoint his father, the "Übermensch" who is perfect. He is overweight, has clinical depression, and is bullied by jocks at his school. He doesn't speak enough Farsi to communicate with his Iranian relatives either. Feeling overwhelmed by his new culture and relatives who are practically strangers, Darius is completely lost and is in search of himself, but all that changes when Darius befriends Sohrab, a Baha'i boy, in Yazd who becomes his first real friend who teaches Darius what friendship is really about.
There is much to enjoy in Khorram's debut, character driven novel. I found myself easily to relate to Darius on a personal level, especially as he is trying to navigate two worlds and still feeling he is not enough for both. There is a nice infusion of Persian culture which I found to be fascinating. I would have loved to learn more especially with the different religions such as Baha'i and Zoroastrian. The topic of mental health is also handled really well. Darius's interior monologue of never living up to his father's expectations is very strong and potent, especially when the reader realizes its completely internal and not external. I wanted a bit more of fleshed out tension between father and son, and though they have a nice moment where they both come together it didn't hit the emotional mark like it wanted. I would have also loved Sohrab's character to be fleshed out. We don't know a whole lot about him or his family situation. Overall, this is an uplifting story where Darius learns to love himself and gain self confidence despite the obstacles he faces on a daily basis.
Rating:
4 stars
Words of Caution:
There is brief nudity scene, mentions of police brutality, and racist and Islamophobic slurs.
If you like this book try:
Aristotle and Dante Discover the Secrets of the Universe
by Benjamin Alire Saenz,
Tell Me Again How a Crush Should Feel​
by Sara Farizan