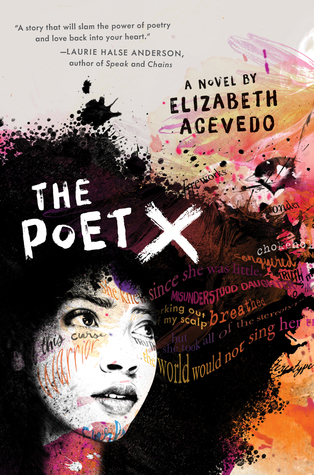 Description:
Xiomara Batista feels unheard and unable to hide in her Harlem neighborhood. Ever since her body grew into curves, she has learned to let her fists and her fierceness do the talking. But Xiomara has plenty she wants to say, and she pours all her frustration and passion onto the pages of a leather notebook, reciting the words to herself like prayers—especially after she catches feelings for a boy in her bio class named Aman, who her family can never know about. With Mami's determination to force her daughter to obey the laws of the church, Xiomara understands that her thoughts are best kept to herself.

So when she is invited to join her school's slam poetry club, she doesn't know how she could ever attend without her mami finding out, much less speak her words out loud. But still, she can't stop thinking about performing her poems. Because in the face of a world that may not want to hear her, Xiomara refuses to be silent.
Review:
Poet X is a coming-of-age story from the streets of Harlem. Xiomara Barista is a Afro-Dominican, teenage poet seeking to express herself. X has loved writing down her thoughts, but unfortunately she doesn't get to share them with her family, due to her mother's strict Catholic religious upbringing. When X starts questioning her faith and realizes her brother is hiding his own secrets from their mother, she starts figuring out how she can stand up for herself and her beliefs. The novel in verse is mostly introspective as X explores other poignant themes facing girls today, such as body politics, slut shaming, unwanted attention from men, how women treat one another and subtly discusses the toxic strong black women trope.
I liked X as a character and there are verses that stood out to me that made me pause and reflect. I did, however, felt wanting more from the book as I finished it. I wanted more of a discussion and appearance of her X's family. X's mother has a big influence on her though she is not given much page time and her father is noticeably absent. X's brother who is the opposite of her fierce and aggressive attitude and after we learn of his big secret the plot thread goes nowhere. Poet X does affirm Acevedo as a writer to watch out and I look forward to reading more from her in the future.
Rating:
4 stars
Words of Caution:
There is some strong language, mention of drug usage and sex. Recommended for Grades 9 and up.
If you like this book try:
Gabi, A Girl in Pieces
by Isabel Quintero,
The Disturbed Girl's Dictionary
by NoNieqa Ramos