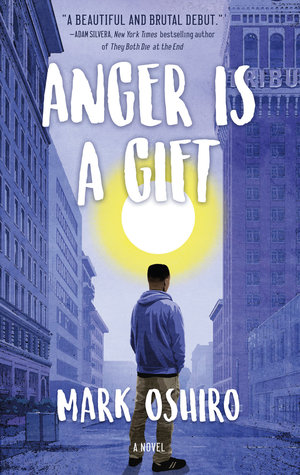 Description:
Six years ago, Moss Jefferies' father was murdered by an Oakland police officer. Along with losing a parent, the media's vilification of his father and lack of accountability has left Moss with near crippling panic attacks.
Now, in his sophomore year of high school, Moss and his fellow classmates find themselves increasingly treated like criminals by their own school. New rules. Random locker searches. Constant intimidation and Oakland Police Department stationed in their halls. Despite their youth, the students decide to organize and push back against the administration. When tensions hit a fever pitch and tragedy strikes, Moss must face a difficult choice: give in to fear and hate or realize that anger can actually be a gift.
Review:
Moss had witnessed his unarmed father's fatal death at the hands of the police. He is still dealing with tragedy in the form of anxiety and night terrors, but his friends and mother help him through panic attacks. He is not a big fan of protesting as it was not fruitful for his family and only seems to make his anxiety worse. Moss also struggles with his self confidence and body image as a large, gay, African American. His dating life has been nonexistent-until he meets Javier, an undocumented immigrant from a different school, and begins to fall in love.
Oshiro addresses many issues in his debut novel: racism, police brutality, civil rights, and gentrification to name a few and covers each of these topics well. As Moss begins his junior year at West Oakland High, a school whose student population is predominately made up of African Americans and Latinos, there are very limited resources for students. Students have to use books that are in irreparable conditions or even worse photocopied pages of textbooks for their classes. Due to low test scores on standardized tests (a battle that is unfortunately very common across the U.S.), there are limited grants. Now the school is adding metal detectors and random locker searches. Both new policies cause immediate issues for innocent students.
Moss's group of friends is affected and they begin organizing. Tragedy strikes during a planned school walk out. Moss's inner demons are awakened and now he must stand up and fight for what is right. I really appreciated this book's honesty and realism in a unresolved, everything tied up in a bow happy ending. The heartbreaking last lines are a call to action. Notably, there are no good models of white ally-ship, putting a sharp eye on white privileged and the title is stronger for this fact. While the book does drag in bits and could have used some editing to tighten some passages, the diversity of this title is its biggest strength: sexual orientation, gender identity, religion, race, disability, and ethnicity are all portrayed in Oshiro's inner-city Oakland setting. This timely title will provoke much-needed discussion and would make an excellent book discussion.
Rating:
4 stars
Words of Caution:
There is some strong violence and language. Recommended for Grades 8 and up.
If you like this book try:
The Hate U Give
by Angie Thomas, How I resist : activism and hope for a new generation edited by Maureen Johnson