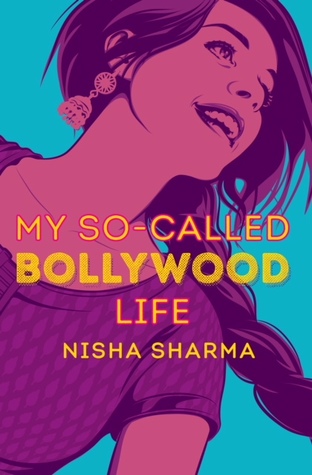 Description:
Winnie Mehta was never really convinced that Raj was her soulmate, but their love was written in the stars. Literally, a pandit predicted Winnie would find the love of her life before her 18th birthday, and Raj meets all of the qualifications. Which is why Winnie is shocked to return from her summer at film camp to find her boyfriend of three years hooking up with Jenny Dickens. Worse, Raj is crowned chair of the student film festival, a spot Winnie was counting on for her film school applications. As a self-proclaimed Bollywood expert, Winnie knows this is not how her perfect ending is scripted.
Then there's Dev, a fellow film geek, and one of the few people Winnie can count on to help her reclaim control of her story. Dev is smart charming, and challenges Winnie to look beyond her horoscope to find someone she'd pick for herself. But does falling for Dev mean giving up on her prophecy, and her chance to live happily ever after? To get her Bollywood-like life on track, Winnie will need a little bit of help from fate, family, and of course, a Bollywood movie star.
Review:
Bollywood has been a part of my life for as long as I can remember, whether it is through listening to music from Bollywood movies or watching the movies on the weekend. So I was super-excited to read Sharma's debut novel when I saw its title alone.
My So-Called Bollywood Life
is an adorable romantic comedy filled with humor, drama, family, and of course romance just like a good Bollywood rom-com.
Vaneeta "Winnie" Mehta is a Bollywood junkie and loves film. She aspires to be a movie critic and study film with a specialty of South Asian films at the prestigious NYU film school. Winnie had a life pretty much planned out. She would go to NYU and eventually marry her best friend and movie buff Raj as it was fated in her janampatri (natal star chart). As we start the book, Winnie's world is turned upside down as she finds out via social media that Raj was hooking up with another classmate while they were on a break. To make things worse, Raj takes over the film festival, Winnie's moment of glory to showcase her skills and passion for film and was to be her key to NYU, and club member Dev is now starting to be interested in her. Remorseful Raj wants to win Winnie back. Needless to say Winnie has to figure out her complicated romance and find a new way to showcase her love of movies. More unsettling, she must decide if she believes in destiny, and if so, what is hers?
I absolutely loved the inclusion of Bollywood throughout the novel, particularly the dream sequences starring one of Bollywood's mega stars
Shah Rukh Khan
. Each chapter headings references Bollywood films, which are detailed in the back of the book for those who are unfamiliar and a good starting guide for those who want give Bollywood movies a try. Since I saw all the films listed, I had a fun time making the connections. Those less familiar with the genre may be a little overwhelmed by the movie details that sprinkle the text, but there are plenty things that they will love about the novel that this might be overlooked. Winnie is a solid heroine who is smart, funny, and ambitious. What I loved most about her, apart from the fact that I also use movie and tv references to explain situations when I can't find the right words, is how proud she is of her culture. I also loved her relationship with her family and best friend. There are plenty of romantic and swoony moments too that brought a smile to my face.
My So-Called Bollywood Life
is a solid and charming debut. I can't wait to see what Sharma writes next.
Rating:
4 stars
Words of Caution:
There is some language and crude sexual humor. Recommended for Grades 7 and up.
If you like this book try:
From Twinkle, with Love
by Sandhya Menon
Labels: 2018 Reading Challenge, 4 stars, DAC, Diversity, Family, Friendship, India, Movies, Realistic Fiction, Romance, YA