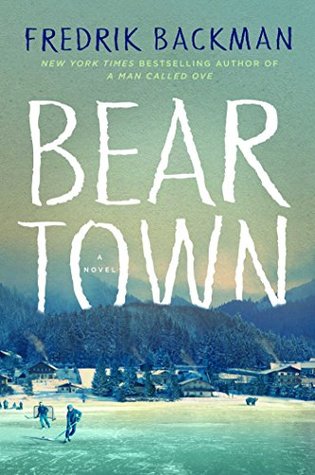 Description:
People say Beartown is finished. A tiny community nestled deep in the forest, it is slowly losing ground to the ever encroaching trees. But down by the lake stands an old ice rink, built generations ago by the working men who founded this town. And in that ice rink is the reason people in Beartown believe tomorrow will be better than today. Their junior ice hockey team is about to compete in the national semi-finals, and they actually have a shot at winning. All the hopes and dreams of this place now rest on the shoulders of a handful of teenage boys. Being responsible for the hopes of an entire town is a heavy burden, and the semi-final match is the catalyst for a violent act that will leave a young girl traumatized and a town in turmoil. Accusations are made and, like ripples on a pond, they travel through all of Beartown, leaving no resident unaffected.
Review:
In rural Sweden there is a small town called Beartown where hockey is more than just a sport. For some it is a religion, an identity, and for others it is a means to overcome short comings and aspire to be better. A team of junior hockey players are on the cusp of changing everything for Beartown. If the players can win the championship, the small town may attract new businesses, improve its ailing economy, and recover its dismal sport dignity. Everyone in the town shares a link to the teen players, from the local bar owner to the mother who cleans the rink, is affected whether they win or lose. Star players are raised on pedestals and considered immortal despite their social standing in the community.
After a night of celebrating a memorable semifinals win, the star player is accused of raping the general manager's daughter. The community must decide between holding the alleged rapist accountable, and thereby forfeiting their chances at success, and overlooking the crime. I was completely taken aback by this book. I was anticipating a regular underdog sports story, a subgenre that I don't read often. This is far from a typical sports story. Backman provides a panoramic analysis of the sexual assault and all the ripples it causes within the community. There is a large cast of characters, some of which you root for and cherish and others that you hate. Due to the size of the cast, I didn't feel like I had a good amount of character development as I would have liked, but enough to make a decision if I found them to be likable or not. The book is very timely, unfortunately, as sexual assault and sports is a common story and in the time of the #MeToo movement. I was not surprised by the outcome of events though angered and frustrated how the survivor of the assault was not taken seriously or believed. I could not help to think that this would make a wonderful TV show as I constantly thought how much this reminded me of Friday Night Lights TV series which I adored. Beartown is a lighthearted book like the author's previous popular works. This is a serious look at how the actions of one or two people can affect an entire town.
Rating:
4 stars
Words of Caution:
There is strong language, scenes of bullying, sexual assault, mentions suicide, homophobic slurs and jokes, and underage drug use. Recommended for older teens and adults only.
If you like this book try:
Us Against Them
by Frederick Backman,
Friday Night Lights
by H.G. Bissinger