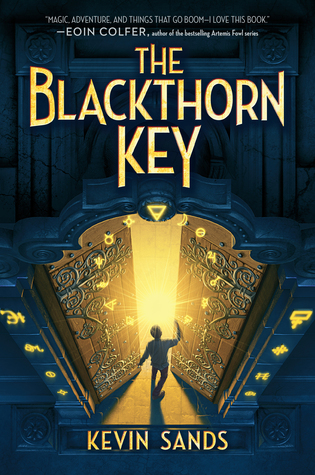 Description:
"Tell no one what I've given you."
Until he got that cryptic warning, Christopher Rowe was happy, learning how to solve complex codes and puzzles and creating powerful medicines, potions, and weapons as an apprentice to Master Benedict Blackthorn—with maybe an explosion or two along the way.
But when a mysterious cult begins to prey on London's apothecaries, the trail of murders grows closer and closer to Blackthorn's shop. With time running out, Christopher must use every skill he's learned to discover the key to a terrible secret with the power to tear the world apart.
Review:
Blackthorn Key
is a fun, quick read that will draw the interest of readers who like fantasy, historical fiction, and/or mystery. All of three of these genres blend and balance so well that it will hold reader's interest regardless of their reading niche. At the center of the story is an orphan boy named Christopher Rowe who is chosen for an apprenticeship to a kind and brilliant apothecary, Benedict Blackthorn. Christopher is a fun character who loves solving complex intellectual puzzles and concoct everything from healing potions to gunpowder. His skills are put to the test when Blackthorn is mysteriously killed, his shop ransacked, and suspicion falls on the young apprentice. The pace and story picks up as Christopher is on the run and pressed for time, his only assistance the help of his friend Tom, The plot is full of twists, turns, and ingenious codes and riddles. My favorite part of reading this book is trying to solve puzzles along with Christopher. Sands also does a great job in bringing England in the midst of Reformation to life in exquisite period detail, exploring the roots of modern science, medicine, and explosives. Christopher's moral dilemma of what to do with a doomsday weapon is also heightens suspense and is a nice touch. Although the book does not end in a cliffhanger and things are resolved quite nicely, I am looking forward to reading more about Christopher's adventures in Sands' next book.
Rating:
4 stars
Words of Caution:
There are some gory details about Blackthorn's death and mentions of public execution which was common in 17th century England. Recommended for Grades 4
If you like this book try:
Mark of the Plague
by Kevin Sands (Christopher Rowe #2) available Sept. 2016,
Book Scavenger
by Jennifer Chambliss Bertman, The Trap by Steven Arntson,
Description:
Magnus Chase has always been a troubled kid. Since his mother's mysterious death, he's lived alone on the streets of Boston, surviving by his wits, keeping one step ahead of the police and the truant officers. One day, he's tracked down by an uncle he's never met—a man his mother claimed was dangerous. His uncle tells him an impossible secret: Magnus is the son of a Norse god. The Viking myths are true. The gods of Asgard are preparing for war. Trolls, giants and worse monsters are stirring for doomsday. To prevent Ragnarok, Magnus must search the Nine Worlds for a weapon that has been lost for thousands of years. When an attack by fire giants forces him to choose between his own safety and the lives of hundreds of innocents, Magnus makes a fatal decision. Sometimes, the only way to start a new life is to die.
Review:
Readers of this blog already know that I am a big Rick Riordan fan, but I had a hard time getting through
The Sword of Summer
, which is the first book in the Magnus Chase and the Gods of Asgard series. Riordan sticks with his formula of introducing teens who are ignorant of their demigod ancestry and are put on a epic quest. This time Riordan tackles Norse mythology as his subject, which is great and refreshing, however; I could see Riordan struggling to keep the violent myths PG and appropriate for his younger audience. The first third of the book was slow, but it started to pick up the face as the author and characters found their stride. The humor, which is usually what I look forward to in reading Riordan's books felt forced and I had a really hard time trying to connect with Magnus as a hero. I am hoping he will grow on me as the series continues, but he is certainly no Percy Jackson. I did appreciate the diverse cast of characters, especially the Muslim Valkyrie Samira.
Rating:
3 stars
Words of Caution:
There is a lot of violence, both implied and discussed throughout the book.
If you like this book try:
The Hammer of Thor
(Magnus Chase and the Gods of Asgard #2) available October 2016,
The Outcasts
(Brotherband Chronicles #1) by John Flanagan,
The Alchemyst: The Secrets of the Immortal Nicholas Flamel
by Michael Scott,
Loki's Wolves
by Kelley Armstrong and Melissa Marr