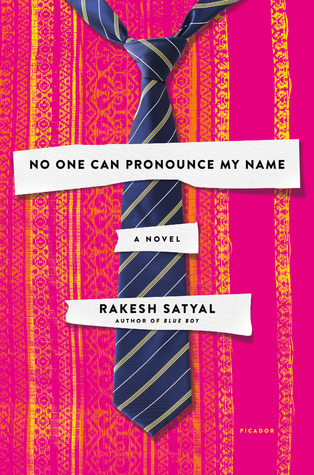 Description:
In a suburb outside Cleveland, a community of Indian Americans has settled into lives that straddle the divide between Eastern and Western cultures. For some, America is a bewildering and alienating place where coworkers can't pronounce your name but will eagerly repeat the Sanskrit phrases from their yoga class. Harit, a lonely Indian immigrant in his midforties, lives with his mother who can no longer function after the death of Harit's sister, Swati. In a misguided attempt to keep both himself and his mother sane, Harit has taken to dressing up in a sari every night to pass himself off as his sister. Meanwhile, Ranjana, also an Indian immigrant in her midforties, has just seen her only child, Prashant, off to college. Worried that her husband has begun an affair, she seeks solace by writing paranormal romances in secret. When Harit and Ranjana's paths cross, they begin a strange yet necessary friendship that brings to light their own passions and fears.
Review:
I must admit that I was drawn to this book mostly because of its title. I have lost count on how many times my name has been mispronounced and misspelled. No Once Can Pronounce My Name is a slice of life book that explores what constitutes the identity of an Indian American.
The story revolves around two main characters who feel isolated in their own lives and are desperately seeking an awakening.
Harit is a middle-aged department store salesman, who is still grieving over the loss of his sister. He takes care of his elderly mother and cross dresses in his deceased sister's clothing to show his mother that her daughter is still alive.
Though the ruse isn't fooling anyone, it is heartbreaking to witness and acts as his catalyst to change to his life by becoming socially active.

Ranjana is a loyal and obedient wife to her distant husband, and the mother of an American-born son, Prashant, a freshman at Princeton. Like Harit, her life has become cold and empty as she feels her identifiers as wife and mother become too confining. Ranjana rebels against Indian convention and strikes her independence by working outside the home, writing paranormal romance on the sly, and striking up male friendships, including one with Harit. Similarly, her son Prashant tries to meet cultural and parental expectations while asserting his independence.
I appreciated how the author captures his characters' experiences within a close-knit Indian community and offering a wide range of representation. Harit and Ranjana both slowly grow and become more rounded characters as they become more open minded and open to change around them. The book does drag in the middle and I found myself wanting to know more of the personal lives of the secondary characters such as Ranjana's husband and Harit's wise mother. I also liked the tongue-in-cheek criticism on being an author, the publishing world, and book shaming when it comes to the romance genre that was included in the book. Overall a decent read on the difficulties of immigrants assimilating to a new culture and redefining themselves.
Rating: 3.5 stars
Words of Caution:
There is mature themes, sexual content, and drug use in the book. Recommended for adults only.
If you like this book try:
The Turner House by
Angela Flournoy

, American Dervish by
Ayad Akhtar

, and The Wangs vs. the World by Jade Chang