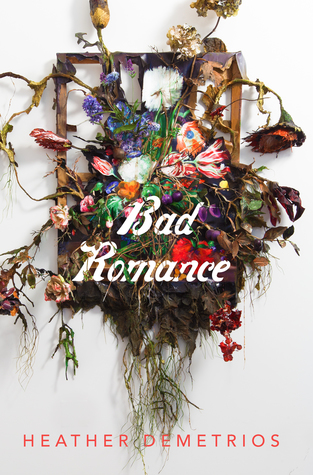 Description:
Grace wants out. Out of her house, where her stepfather wields fear like a weapon and her mother makes her scrub imaginary dirt off the floors. Out of her California town, too small to contain her big city dreams. Out of her life, and into the role of Parisian artist, New York director—anything but scared and alone.
Enter Gavin: charming, talented, adored. Controlling. Dangerous. When Grace and Gavin fall in love, Grace is sure it's too good to be true. She has no idea their relationship will become a prison she's unable to escape. Deeply affecting and unflinchingly honest, this is a story about spiraling into darkness—and emerging into the light again.
Review:
Drawing from the author's own experience of a toxic relationship,
Bad Romance
is a rough and raw read that follows one teen's descent into an abusive relationship.
Grace has a tough life and is waiting for someone to save her. Her stepfather is verbally abusive and any small trigger can set off her contrite, subservient mother. Grace has only known on how to be on survival mode. She just has to keep her head down at home, work hard to save money for college applications, and maintain high grades to qualify for scholarships. Grace wants an escape and a way to raise her depleted self esteem. Enter Gavin, the most talented, hottest, and charming senior in school. Grace feels like she is given a break when Gavin, the most talented and charming senior in school, notices her.
Written from hindsight after escaping her unhealthy relationship with Gavin, Grace reflects on how she worked herself in and out of a toxic situation. With searing honesty and no holds back, we are taken on a dark journey of Grace's relationships, both familial and romantic, until she has found the strength and confidence to get out of it. It is important to note that with the exception of her friends, Grace is consistently surrounded by negativity, emotionally unstable adults, and not shown what a healthy relationship entails, which may be the reason why she is so susceptible to a toxic relationship. She only knows the story-book kind of love. Grace savors the attention from Gavin and everyone who notices them together. She rides the high of her romantic relationship. There are plenty of red flashing neon signs of danger that Gavin gives off such as limiting who Grace can talk to and how much time she must spend with him
, many of which her friends and her sister point out,

but at first Grace chalks up to as
"tiny details" that she is willing to give up in order to maintain her perfect relationship.

Before Grace knows it, she is back again in survival mode when her relationship becomes too constricting and she has lost her identity. Now, all her dreams seem to be slipping out of her grasp as she realizes that the perfect relationship she dreamed of is twisting out of control.
It is clear that Gavin needs serious help, but he emotionally blackmails Grace into believing she is responsible for his mental health and being if she ever leaves him. Grace needs out of the relationship, but she also needs help in doing so. We cheer as she finds the power to do so.
Though hard to read because of its content, Bad Romance is a dark, realistic look at dating violence and abusive relationships, a story that is best suited for older high school readers. Demetrios expertly conveys the suffocating feeling of life in a dysfunctional family and the longing of teens to be on their own. It will serve as a great book for teens and their parents to discuss.
Rating:
4.5 stars
Words of Caution:
There is strong language, sexual content, and underage drinking. Recommended for Grades 10 and up.
If you like this book try:
Dreamland
by Sarah Dessen,
Breathing Underwater
by Alex Flinn