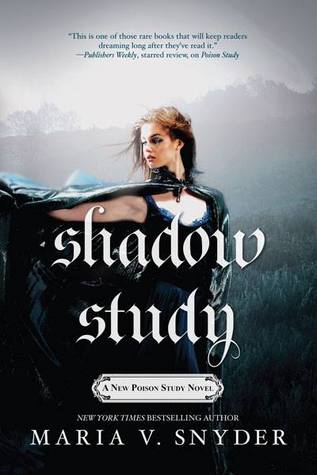 Description:
When Yelena was a poison taster, her life was simpler. She survived to become a vital part of the balance of power between rival countries Ixia and Sitia.
Now she uses her magic to keep the peace in both lands—and protect her relationship with Valek.
Suddenly, though, dissent is rising. And Valek's job—and his life—are in danger.
As Yelena tries to uncover her enemies, she faces a new challenge: her magic is blocked. And now she must find a way to keep not only herself but all that she holds dear alive.
Review:
I absolutely loved the first three books in the Study series by Maria V. Snyder. I really enjoyed the balance between political intrigue, magic, and romance in those books and I read them very quickly. I was elated and also scared when it was announced that the Study series would continue for three more books. I was really hoping that it would not result like my depreciating excitement for the extension of the Mortal Instrument series.
For the most part I enjoyed Shadow Study, but the writing is not as strong as its predecessor. I had no issues with the plot which was complex and moved the story quite nicely. Yelena is on her way to enjoy a much-deserved vacation with her lover Valek when she is attacked. Believing herself healed from the arrow wound, she later discovers that a poison has stripped her of her magical powers. While Valek is far away in Ixia dealing with political plots against the ruler there, Yelena must find who did this to her and whether there is any way to reverse the damage. I also appreciated seeing returning secondary characters from both the Study series and the Glass series play a pivotal role in this book as well as some new characters. My main issue in this book was the unnecessary split of narration between Yelena, Valek, and Janco. I wouldn't have mind if the book had a dual narrative of just Yelena and Valek, but the Janco portion of the story didn't need his point of view because in my opinion it didn't add any new information.
The transition between narratives isn't smooth as I had hoped and I thought it was weird that Yelena's point of view is in first person and Valek's and Janco's point of views were not. However my favorite part of this book hands down is getting a glimpse into Valek's past and the path he took to become the most fearful and deadly spymaster and assassin. The cliffhanger and surprise ending definitely makes me want to continue this series.
Rating:
3.5 stars
Words of Caution:
There is some strong violence, language, and allusions to sexual situations. Recommended for older teens and adults.
Description:
Ever since being kidnapped from the Illiais Jungle as a child, Yelena Zaltana's life has been fraught with peril. But the recent loss of her Soulfinding abilities has endangered her more than ever before. As she desperately searches for a way to reclaim her magic, her enemies are closing in, and neither Ixia nor Sitia is safe for her anymore. Especially since the growing discord between the two countries and the possibility of a war threatens everything Yelena holds dear.
Valek is determined to protect Yelena, but he's quickly running out of options. The Commander suspects that his loyalties are divided, and he's been keeping secrets from Valek...secrets that put him, Yelena and all their friends in terrible danger. As they uncover the various layers of the Commander's mysterious plans, they realize it's far more sinister than they could have ever imagined.
Review: I liked Night Study more than Shadow Study. We get more pieces to the puzzle regarding the Commander's strange behavior. Yelena still remains powerless, but there are strange things happening with Valek. As Yelena and company try to advance on Owen Moon's shoes, the magician always seems to be a few steps ahead of them. The plot keeps at a good pace with lots of action and humor. There is also a nice touch of romance without overshadowing the important plot-lines. There were a few times I had to roll my eyes in the implausibility of Yelena's action in particular to her new state. Again the narrative is split into multiple points of views jumping from Yelena, Valek, Janco, and Leif. I didn't mind the multiple points of views as much in this book considering the characters were further apart, but in scenes in which they all stayed together it made little sense to switch point of views. I also really enjoyed seeing and reading about Valek's family. A big battle is brewing at the end of the book and I'm really curious to see how Snyder wraps up her series.
Rating: 4 stars
Words of Caution: There is some strong violence, language, and allusions to sexual situations. Recommended for older teens and adults.
If you like these books try: Throne of Glass series by Sarah J. Maas, Grave Mercy series by Robin LaFevers, Remnant Chronicles by Mary E. Pearson