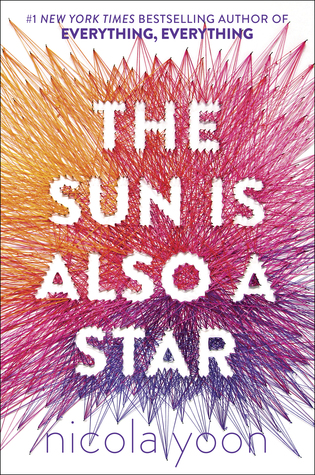 Description:
Natasha: I'm a girl who believes in science and facts. Not fate. Not destiny. Or dreams that will never come true. I'm definitely not the kind of girl who meets a cute boy on a crowded New York City street and falls in love with him. Not when my family is twelve hours away from being deported to Jamaica. Falling in love with him won't be my story.
Daniel: I've always been the good son, the good student, living up to my parents' high expectations. Never the poet. Or the dreamer. But when I see her, I forget about all that. Something about Natasha makes me think that fate has something much more extraordinary in store—for both of us.
The Universe: Every moment in our lives has brought us to this single moment. A million futures lie before us. Which one will come true?
Review:
Unlike many people, I didn't love
The Sun is Also a Star
, but I did enjoy it a little better than
Everything Everything
. The two things that bothered me most about the book is the fact that the events, for the most part, occurred in 24 hours and the insta-love trope. While I liked Natasha and Daniel individually, I didn't feel the swoony romance between them though I can see Yoon trying to balance the reality versus dream theme throughout the story. I did enjoy, however, the other themes in the book such as immigration, identity (in particular of the first immigrant generation), and personal desires versus familial expectations which I wished were explored more. I also liked how the book was told from essentially three point of views: Natasha, Daniel, and the third person view of the universe which highlights and fills in the backstories some of the minor characters that Natasha and Daniel encounter in their escapade. Ironically, I was more curious about these minor characters rather than our star couple. I also like how all of these characters and their stories connected back to our main characters though some were too convenient. Overall
The Sun is Also a Star
is a fine read that some may find to be profound, lyrical, and romantic, but it didn't work for me.
Rating:
3.5 stars
Words of Caution:
There is some strong language and crude sexual humor. Recommended for Grades 9 and up.
If you like this book try:
Something in Between
by Melissa De La Cruz,
Eleanor and Park
by Rainbow Rowell,
Please Ignore Vera Dietz
by A.S. King