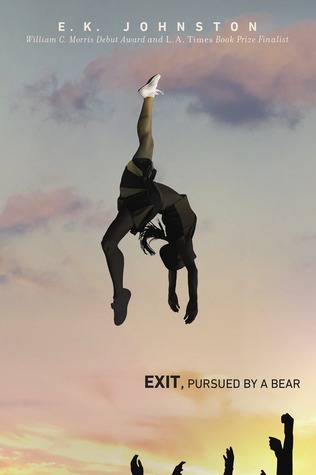 Description:
Hermione Winters is captain of her cheerleading team, and in tiny Palermo Heights, this doesn't mean what you think it means. At PHHS, the cheerleaders don't cheer for the sports teams; they are the sports team—the pride and joy of a tiny town. The team's summer training camp is Hermione's last and marks the beginning of the end of…she's not sure what. She does know this season could make her a legend. But during a camp party, someone slips something in her drink. And it all goes black.
In every class, there's a star cheerleader and a pariah pregnant girl. They're never supposed to be the same person. Hermione struggles to regain the control she's always had and faces a wrenching decision about how to move on. The assault wasn't the beginning of Hermione Winter's story and she's not going to let it be the end. She won't be anyone's cautionary tale.
Review:
When Hermione Winters arrives at Camp Manitouwabing for the final pre-season cheer camp of her high school career, she's prepared for intense competition and exhausting practices. Working with her equally fierce and driven best friend Polly as co-captain, Hermione anticipates athletic challenges and triumphs, but she never imagined being drugged and raped at a camp dance. Despite being a book that revolves around sexual assault,
Exit, Pursued by a Bear
is an inspiring story of survival in the face of adversity. The author takes an unconventional route in focusing on Herminone's recovery and her refusal to wallow in self-pity or avoiding the world. This book transform our vocabulary of "rape victim" to "survivor of sexual abuse". It also shows that everyone has their own way to cope with trauma, which is why I didn't mind so much that Hermione seemed detached to what happened to her. I actually thought working with a therapist and navigating her way through certain trigger points made the story stronger and allows the author to explore recovery emotionally, mentally, and physically.
Exit, Pursued by a Bear
is also a clever albeit loose retelling of Shakespeare's The Winter's Tale where victim blaming and a woman's reputation are some of the core topics of the play. I applaud the author for approaching the hard topics such as sexual violence and abortion in unflinchingly honest and frank manner without being graphic or preachy about it. More over the book tackles rape culture through a feisty and audacious heroine who does not want people to feel sorry for her, pray for her, and refuses to be labeled. While it is true that Hermione's recovery may be too good to be true because she enjoys all the advantages of being popular and middle-class, and she gets the help she needs so she can continue to enjoy that life. This doesn't make Hermione's journey easy or less inspiring. Hermione's victories are earned. I really appreciated the author's note that is upfront in explaining that Hermione's experience is a best-case scenario while also providing links for both U.S. and Canadian resources, and offering encouragement to readers not so lucky as Hermione.
Rating:
4 stars
Words of Caution:
There is some language, crude sexual humor, underage drinking, allusions to rape, and abortion is mentioned. Recommended to strong and mature Grade 8 readers and up.
If you like this book try:
All the Rage
by Courtney Stevens,
Asking for It
by Louise O'Neil,
The Way I Use to Be
by Amber Smith