Description:
Grace's past has come back to hunt her . . . and if she doesn't stop it, Grace isn't the only one who will get hurt. Because on Embassy Row, the countries of the world stand like dominoes, and one wrong move can make them all fall down.
Review:
See How They Run is the second book in the Embassy Row series. It picks up where All Fall Down left off and deftly avoids the dreadful middle book syndrome. Grace is reeling from the realization of what actually happened to her mother and the lies her own family had encouraged her to believe. Her guilt and anger are all consuming and she barely eats or sleeps. Partially in explanation for what happened, her grandfather's chief of staff, Ms. Chancellor, reveals the existence of a secret society of women of which Grace's mother was a member and to which Grace herself will soon belong. Ms. Chancellor reveals little more other than that the society is an ancient one that has been involved in much of Adria's political intrigue. Concerned about her mental state, Grace's brother Jamie returns to the embassy from West Point, bringing along a friend whose grandmother was from Adria. When the friend winds up dead and Jamie's Russian friend Alexei is accused of the murder, the action picks up and never ends. Along with Grace, we uncover more conspiracies and perhaps Grace was right about the events all along? Though there are plenty of eye rolling moments where Grace acts impulsively and puts herself in harm's way, the story line and plot development depends on her actions. There is some romantic tension in this book but it is a secondary plot point, which is fine by me. I was surprised by the cliff-hanger ending and couldn't wait to find out how this series ends. If you enjoyed
All Fall Down
then this sequel will not disappoint.
Rating:
4 stars
Words of Caution:
There is some strong violence and some minor language. Recommended for Grade 7 and up.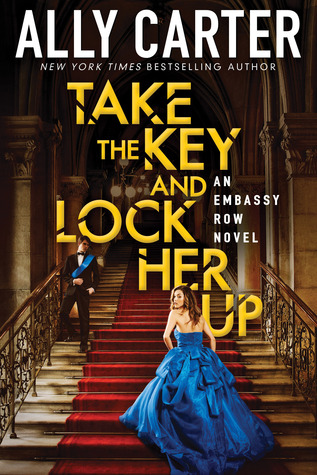 Description (edited to avoid spoilers):
Centuries ago, the royal family of Adria was killed or so everyone thought. Now Grace Blakely knows the truth: There was one survivor. This simple fact could cause a revolution — which is why some people will stop at nothing to keep it from coming to light.
There is only one way for Grace to save herself, save her family, and save the boy she loves. She must outmaneuver her foes, cut through the web of lies that has surrounded her for years, and go back to the source of all her troubles, despite the risk.
Review:
While we did find some answers in
See How They Run
, we were still left with plenty of questions. Carter takes us on another twisty-turny journey to find all the answers in this series finale. Now aware of the truth, Grace is once again on the lam, hopping from the U.S. to the streets of Paris to the bitterly cold weather of Russia. No matter how much she tries, she can not escape her past and her future. Since her brother Jaime's life is in limbo, it is up to Grace alone to find out what her mother was searching for and to finally reclaim her life and those of her family once and for all. Full of action and suspense this finale delivered and kept me on my toes. I also really liked learning more about Alexei's family. The romance thread is sweet though does not overshadow the plot line. I would definitely recommend this series to readers who enjoy mysteries and thrillers.
Rating:
4 stars
Words of Caution:
There is some strong violence and some minor language. Recommended for Grade 7 and up.
If you like these books try:
The Conspiracy of Us
by Maggie Hall,
The Fixer
by Lynn Barnes.