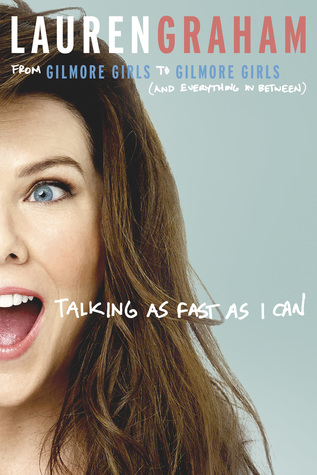 Description:
In this collection of personal essays, the beloved star of Gilmore Girls and Parenthood reveals stories about life, love, and working as a woman in Hollywood—along with behind-the-scenes dispatches from the set of the new Gilmore Girls, where she plays the fast-talking Lorelai Gilmore once again.
Review:
I normally don't read books by celebrities in particularly memoirs, but since I'm a huge Gilmore Girls fan and I adore Lauren Graham I was really looking forward to reading this book. This is a fun collection of essays that bring out Lauren Graham's contagious enthusiasm and giddy personality. While she does talk about Gilmore Girls and Parenthood, both of which received critical acclaim and popular viewership, Lauren also addresses her struggle with becoming an actress, addressing sexism indirectly, and her weird relationship with acting like a celebrity.
Like her character Lorelai Gilmore, this entire book was fast, loud, hilarious, filled with pop culture references. By the end of the book you realize how incredibly down to earth Lauren is in real life and in role. While she does talk about her experiences on the set of Gilmore Girls, I was disappointed in that she didn't go beyond the surface with her look back at the show. I wasn't looking for dirty gossip or her badmouthing her costars, but more of her thoughts on her character's story arc. Be aware that if you have NOT yet watched A Year in the Life on Netflix you cannot read the last 25% of this book since there are spoilers, so before reading I highly recommend watching that first because honestly the last 25% was my favorite. Like us Lauren is also wondering if there is more Gilmore Girls to come.
Rating:
4 stars
Words of Caution:
None. Suitable for teens and adults.
If you like this book try:
Scrappy Little Nobody
by Anna Kendrick,
Bossypants
by Tina Fey,
Yes Please
by Amy Poehler,
The Girl with the Lower Back Tattoo
by Amy Schumer