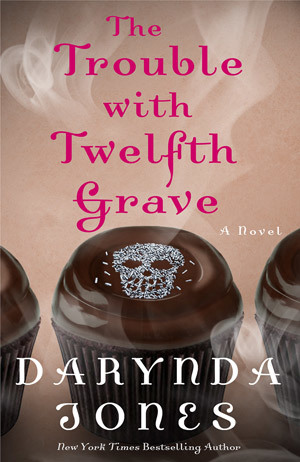 Description:
Ever since Reyes Farrow escaped from a hell dimension in which Charley Davidson accidentally trapped him, the son of Satan has been brimstone-bent on destroying the world his heavenly Brother created. His volatile tendencies have put Charley in a bit of a pickle. But that's not the only briny vegetable on her plate. While trying to domesticate the feral being that used to be her husband, she also has to deal with her everyday life of annoying all manner of beings--some corporeal, some not so much--as she struggles to right the wrongs of society. Only this time she's not uncovering a murder. This time she's covering one up.

Add to that her new occupation of keeping a startup PI venture--the indomitable mystery-solving team of Amber Kowalski and Quentin Rutherford--out of trouble and dealing with the Vatican's inquiries into her beloved daughter, and Charley is on the brink of throwing in the towel and becoming a professional shopper. Or possibly a live mannequin. But when someone starts attacking humans who are sensitive to the supernatural world, Charley knows it's time to let loose her razor sharp claws. Then again, her number one suspect is the dark entity she's loved for centuries. So the question becomes: Can she tame the unruly beast before it destroys everything she's worked so hard to protect?
Review:
Jones takes a page out of Buffy the Vampire Slayer and throws a wrench into Charlie and Reyes' relationship. Reyes is not in good place. He is not the Reyes that we have come to love. He is far off the deep end and making his father proud in causing chaos and danger. Charlie has this whole new title resting on her scared shoulders and she is the only one who can stop Reyes, but it will not be easy. She could potentially lose the love of her life for good. As if the Reyes situation is not enough for our gifted PI, there is another mystery that boggles her mind. Someone or something is killing gifted people and Charlie needs to find answers while protecting her friends. While there are many things going on in this book, Jones seems to wrap and connect everything together quite satisfyingly in the end. We see pieces of the big picture come together and connect in surprising ways. Even though her life is messy and crazy, Charlie is lovable as ever as she never stops looking for answers and provides plenty of humor to keep this story afloat. The ending came at a complete shock and exemplifies the type of heroine Charlie is in this series. Lots of questions remain and will hopefully be resolved in the last and final book.
Rating:
4 stars
Words of Caution:
There is strong language, sexual situations which are times graphic, strong violence, and suggestive humor. Recommended for adults only.
Description:
Charley Davidson, Grim Reaper extraordinaire, is pissed. She's been kicked off the earthly plain for eternity – which is the appropriate amount of time to make a person starkraving mad. But someone's looking out for her, and she's allowed to return after a mere hundred years in exile. Is it too much to hope for that not much has changed? Apparently it is. Bummer.

She's missed Reyes and her daughter, Beep, but now that she's back on earth, it's time to put to rest burning questions that need answers. What happened to her mother? How did she really die? Who killed her? And are cupcakes or coffee the best medicine?
Review:
Summoned to Thirteenth Grave is a bittersweet book to read because it marks the end of the Charley Davidson series. In traditional Jones fashion, Charley has a mission impossible, save the world from a demon dimension in just three days. She also has told solve a murder mystery in which Reyes is being framed for a crime he did not commit once again. It was an absolute pleasure visiting all of the major characters in this series in the final book. The stakes are even higher in the last book as the safety of Beep and all of the citizens of New Mexico are at risk.
This series has provided laughs, shocks, and emotional moments for me as a reader. I wished a few of the twists were a bit fleshed out, but we do get some closure on a few details that have been left open for a while in particular with Charley's mother and her birth. We also
get closure on most characters' issues and/or catch a glimpse of their future.
The pacing of the plot is quick without being distracting from extraneous side stories. The trademark humor is present without being overly bearing. I was also nice to see Reyes and Charley be on the same page and work together. I will really miss this series, but with an open ending I am crossing my fingers and toes for a spin-off.
Rating:
4 stars
Words of Caution:
There is strong language, sexual situations which are times graphic, strong violence, and suggestive humor. Recommended for adults only.
If you like these books try:
Arcadia Bell
series by Jenn Bennett,
Iron Druid Chronicles
by Kevin Hearne,
Black Wings
by Christina Henry