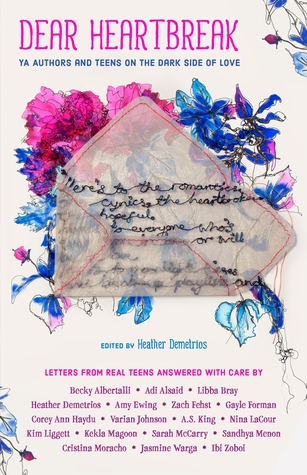 Description:
In this powerful collection, YA authors answer real letters from teens all over the world about the dark side of love: dating violence, break-ups, cheating, betrayals, and loneliness. This book contains a no-holds-barred, raw outpouring of the wisdom these authors have culled from mining their own hearts for the fiction they write. Their responses are autobiographical, unflinching, and filled with love and hope for the anonymous teen letter writers.
Review:
When I picked up
Dear Heartbreak
I was expecting that the YA authors had written essays on love and relationships in this anthology, but I am pleasantly surprised by the format. Each chapter begins with letters from real teens addressing their insecurities, fears, and vulnerabilities surrounding love and relationships followed by the author's or in one particular case author and her husband. The teenage writers of the letters share their stories—some in great detail, some in only a few words—and the responses are equally varied in terms of how deeply the authors reopen their old wounds. Becky Albertalli, Libba Bray, Corey Ann Haydu, and Kim Liggett reflect back on their teenage experiences, while Kekla Magoon talks about a flaw that he is presently working on herself in order to share wisdom. The authors do not sugar coat their answers and offer empathy to the teens. Topics such as mental health, unhealthy and abusive relations, survivor's of sexual assault, and the universal question of how we can be our authentic self while we are constantly bombarded by societal expectations of how we
should
live our lives. Some of the letters get repetitive by the alarming theme of not loving yourself and how you should complete yourself. One downside to this collection is that it only includes a few male perspectives, however, the range of emotional experiences covered is vast.
Rating:
4 stars
Words of Caution:
There is strong language throughout the book and frank discussion of sexual assault, mental health, and abusive relationships are included. Recommended for Grades 9 and up.
If you like this book try:
Bad Romance
by Heather Demetrios,
It Ended Badly
by Jennifer Wright