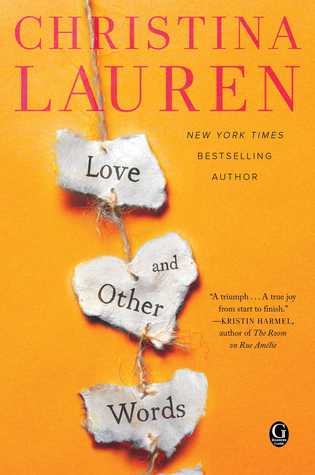 Description:
Macy Sorensen is settling into an ambitious if emotionally tepid routine: work hard as a new pediatrics resident, plan her wedding to an older, financially secure man, keep her head down and heart tucked away. But when she runs into Elliot Petropoulos—the first and only love of her life—the careful bubble she's constructed begins to dissolve. Once upon a time, Elliot was Macy's entire world—growing from her gangly bookish friend into the man who coaxed her heart open again after the loss of her mother...only to break it on the very night he declared his love for her.
Told in alternating timelines between Then and Now, teenage Elliot and Macy grow from friends to much more—spending weekends and lazy summers together in a house outside of San Francisco devouring books, sharing favorite words, and talking through their growing pains and triumphs. As adults, they have become strangers to one another until their chance reunion. Although their memories are obscured by the agony of what happened that night so many years ago, Elliot will come to understand the truth behind Macy's decade-long silence, and will have to overcome the past and himself to revive her faith in the possibility of an all-consuming love.
Review:
Love and Other Words
is a touching best friends to lovers romance story. The story is divided between the past and present, where Macy Sorenson and Elliot Petropoulos fall in love, lose each other, and have the possibility of a second chance. In the past we see how Macy and Elliott meet and fall in love with each other in the closet of her dad's vacation home, where they hide out to discuss their favorite books. In the second, Macy is working as a pediatrics doctor and engaged to a single father, and she hasn't spoken to Elliot since their breakup. But a chance encounter forces her to confront the truth: what happened to make Macy stop speaking to Elliot? Can they ever go back to how close they once were? Does Macy even want to rebuild her relationship with Elliott which is separated not by time or physical remoteness but by emotional distance?
While I enjoyed both story lines, I loved the past as we watched Macy and Elliott come together. After losing her mother at a young age, Macy is navigating her teenage years without a female role model, relying on the time-stamped notes her mother left in her father's care for guidance. She doesn't want to be pitied or known as the sad girl who lost her mom. With each other they both can just be Macy and Elliot.
Whenever I read a book that features best friend romances, we are often cheated out of how the two characters became friends before moving on to lovers. It is just
told
that the two characters are close and I always felt cheated in that aspect of the story. This is definitely not the chance in
Love and Other Words
. We see how Macy and Elliot become everything to each other and their absolute honesty with one another is terrifying and at the same time admirable. For teen Macy, Elliot and her dad become her world and her home until one moment and bad decision changed everything.
In the present day, Macy takes comfort in complacency in a relationship where she doesn't have to be emotionally invested and ready made. She throws herself into her work and rarely comes up for air, not even to plan her upcoming wedding. Since Macy is still living with her fiance while grappling with her feelings for Elliot, the flashbacks offer steamy moments, tender revelations, and sweetly awkward confessions while Macy makes peace with her past and decides her future. I read this book fairly quickly as I got so wrapped up into the characters and story. While I understand why the book is written in two time periods, I am a greedy reader who wanted to know what happened to Macy and Elliot when they separated.
Love and Other Words
is an emotional rollercoaster, but it worth all of the bumps along the way.
Rating:
4 stars
Words of Caution:
There is strong language, crude sexual humor, and a few sex scenes. Recommended for older teens and adults only.
If you like this book try:
Family Tree by Susan Wiggs, The Summer I Turned Pretty series by Jenny Han