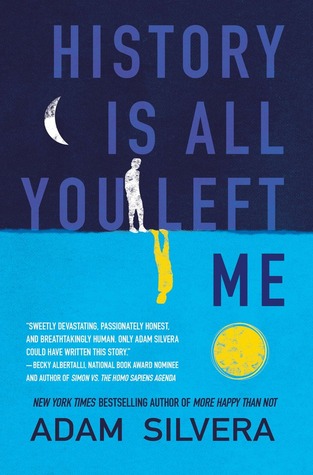 Description:
When Griffin's first love and ex-boyfriend, Theo, dies in a drowning accident, his universe implodes. Even though Theo had moved to California for college and started seeing Jackson, Griffin never doubted Theo would come back to him when the time was right. But now, the future he's been imagining for himself has gone far off course.
To make things worse, the only person who truly understands his heartache is Jackson. But no matter how much they open up to each other, Griffin's downward spiral continues. He's losing himself in his obsessive compulsions and destructive choices, and the secrets he's been keeping are tearing him apart. If Griffin is ever to rebuild his future, he must first confront his history, every last heartbreaking piece in the puzzle of his life.
Review:
History Is All You Left Me
is
an emotional, cathartic punch in the heart. I mean that as a compliment. Griffin has lost Theo, his best friend and first love, twice: first temporarily when they broke up as a couple and second permanently when Theo dies in a drowning accident. The story is structured in two timelines, the history of before where we see Griffin and Theo fall in and out of love in a well developed romance and the now as Griffin narrates to Theo his heartbreaking journey through the grieving process, highlighted by disorientation, resentment, unhealthy relationships, and selfishness.
The dual narratives worked well in the book, balancing out the light moments with the dark ones. It is also clear to see how Griffin romanticized the history, downplaying the bad times. Griffin's love for Theo is all consuming, but it makes sense given how their relationship evolved from best friends and later to boyfriends. Both narratives are infused by Griffin's struggles with obsessive compulsive disorder. Like the before timeline, Griffin's obsessive compulsive disorder is seen as a natural part of his life, but as we venture into the present timeline, it is clearly affecting his life and taken seriously by seeking treatment.
The writing is raw and lyrical, never melodramatic. We see how each cast of the characters deals with romance and grief differently. The mysteries of what happened between Griffin's and Theo's best friend Wade in between the two timelines kept the pace moving for me. I would have liked to gotten to know more about Jackson. Like breakups in real life, grief is also messy, realistic, complex, and painful. We may not agree with Griffin's actions in jumping into unhealthy relationships, but we can understand what led him to them and identify with his confusion and denial.
History Is All You Left Me is a book where you will need tissues at hand. There were several moments where I had a lump in my throat and never once it did feel contrived or orchestrated by the author. It is a smart, profound character-driven read that will leave you drained yet hopeful until the last page.
Rating:
4.5 stars
Words of Caution:
There is some strong language, sex is alluded to and mentioned in the book, a character mentions having an abortion, and there is a small scene of underage drinking at a party. Recommended for Grades 9 and up.
If you like this book try:
We are the Ants
by Shaun David Hutchinson,
The Great American Whatever
by Tim Federle