Description:
Now that she is ten, Lailah is delighted that she can fast during the month of Ramadan like her family and her friends in Abu Dhabi, but finding a way to explain to her teacher and classmates in Atlanta is a challenge until she gets some good advice from the librarian, Mrs. Carman.
Review:
Lailah recently moved from Abu Dhabi to Peachtree City, Georgia, and while she misses her friends back in the Middle East, she is very excited to be old enough to fast during Ramadan. Lailah is in a difficult situation. She is the new kid in school and also different from her classmates. How can she participate in Ramadan when no one in class knows what it is and what if she is the only one fasting? When her mother gives Lailah a note excusing her from lunch, Lailah hides the note when it is time to give it to her teacher Mrs. Penworth, and she has to endure the tempting smells of food and kind offers of her classmates to share lunch. After escaping to the library, the school librarian encourages Lailah to write down her feelings and share them with her teacher. After all, who knows what could come of sharing her culture?
Lailah's Lunchbox
is a story that will hit home to a lot of younger Muslims and it also reminded me of my own childhood explaining why I would not eat and drink for an entire month to my classmates and teachers in school. Lailah's is proud of her religion and culture, but is unable to express herself until a librarian advises her to explain her feelings. This picture book is a great introduction to Ramadan for both young Muslims and non-Muslims.The large, often full-page watercolor illustrations provide gentle details that add depth to the text. A note and glossary round out the story, giving context from the author's life and information about Islamic culture. A great addition to a growing number of books that educate about Islam without being preachy or heavy handed.
Rating:
4 stars
Words of Caution:
None. Recommended for Grades 1-3.
If you like this book try:
Moon Watchers: Shirin's Ramadan Miracle
by Reza Jalali,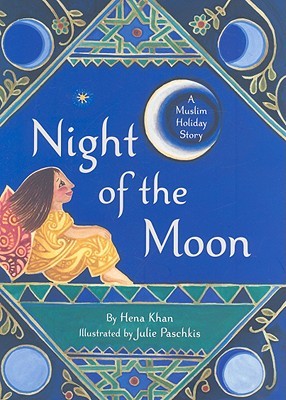 Description:
Yasmeen, a seven-year-old Pakistani-American girl, celebrates the Muslim holidays of Ramadan, "The Night of the Moon" (Chaand Raat), and Eid. With lush illustrations that evoke Islamic art, this beautiful story offers a window into modern Muslim culture—and into the ancient roots from within its traditions have grown.
Review:
Yasmeen's mother points out the little sliver of the crescent moon to remind her of the beginning of a new month of Ramadan. The significance of the moon is directly correlated to the lunar Islamic calendar. As Yasmeen moves through the month and the moon changes its shape, she learns the lessons of the celebration.
Night of the Moon
expertly captures the spirit of observing Ramadan, the holiest month of the Islamic calendar, and celebrating Eid Al-Fitr, the festival that marks the end of Ramadan. I loved how the author weaves information about the cultural traditions of Ramadan and Eid along with Yasmeen's love of her family and growing understanding of her role in the outside world. The gentle and reflective text reflects the simple arc of the month focusing on the spirit rather than being bogged down to the minute details. The illustrations are colorful and stunning incorporating a lot of Islamic art.
The Night of the Moon
is a warm, lovely, educational read and highly recommended.
Rating:
4 stars
Words of Caution:
None. Recommended for Grades 1-3.
If you like this book try:
It's Ramadan, Curious George
by Hena Khan