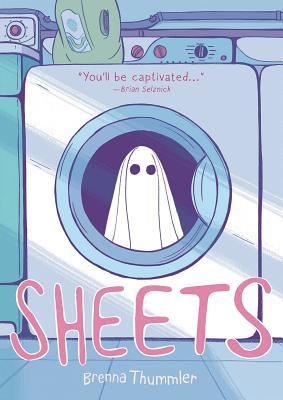 Description:
Marjorie Glatt feels like a ghost. A practical thirteen year old in charge of the family laundry business, her daily routine features unforgiving customers, unbearable P.E. classes, and the fastidious Mr. Saubertuck who is committed to destroying everything she's worked for.
Wendell is a ghost. A boy who lost his life much too young, his daily routine features ineffective death therapy, a sheet-dependent identity, and a dangerous need to seek purpose in the forbidden human world.
When their worlds collide, Marjorie is confronted by unexplainable disasters as Wendell transforms Glatt's Laundry into his midnight playground, appearing as a mere sheet during the day. While Wendell attempts to create a new afterlife for himself, he unknowingly sabotages the life that Marjorie is struggling to maintain.
Review:
I enjoyed reading
Sheets
by Brenna Thurmmler, but I could not help but feel like something was missing from the somber graphic novel. Sheets is centered on grief and dealing with death. Struggling to cope after the death of her mother, teen Marjorie is forced to become the adult. She has to look after her father, who is struggling with depression, and her little brother; attend high school; and run the family laundromat business, where they all live and work. At school, she is invisible to most and visible to bullies who make fun of her job. In addition an adult man threatens and tries to sabotage the laundromat in order to intimidate Majorie to relinquish the business for his own use. And as if this isn't enough, young Wendell, a ghost who is unhappy being dead and surrounded by other spirits, haunts Marjorie and her business and makes things worse.
My problem with
Sheets
is that the narrative is imbalanced. Majorie's part of the story is solid and well fleshed out. I wanted to learn more about the Land of Ghosts and about Wendell which just skims the surface on the themes of grief and death. The characters are distinct, and the villain, Mr. Saubertuck, is self-absorbed and very easy to hate. The ghosts, who must wear sheets to be visible, are every bit as sympathetic as the humans and easily noted as a metaphor to how Majorie feels on a daily basis. The artwork is charming and makes a clear distinction between the graphic novel's two worlds, Marjorie's warm, colored world and Wendell's stark, monochrome Land of Ghosts adds life (and death) and dimension to the story. Panels also vary in size, which enriches the narrative. While I didn't love
Sheets
like I wanted to, I would recommend reading it and I look forward to reading more from Thrummler as she has a lot of potential as a graphic novelist.
Rating:
3 stars
Words of Caution:
There is some minor language. Recommended for Grades 7 and up.
If you like this book try:
Ghostopolis
by Doug TenNapel